The Juniper Think Desk Standing desk is made for commercial use and residential use in the home office. It aims to offer an elegant and durable transition from a sitting desk to a standing desk. It allows users to work while both standing or sitting, or the Think Desk's adjustable height also allows users to sit on a stool, a great in-between choice for those who don't want to stand all day and don't want to sit all day either.
The Think Desk most popular features are its multiple customization options. The standing desk is available in 6 sizes and multiple colors which recommend it for just about any situation. Smaller versions of this desk are also available and recommended for children or even tight spaces, particularly at home. Its larger versions are ideal classic desk replacements and the top choice of users working on a multi-monitor setup.
Juniper Think Desk Standing Desk Review – The Affordable Standing Ergonomics
One of the first reasons to think about the Juniper Think Desk is its price. Customers have shown this to be an important characteristic of a good standing desk as most premium alternatives cost thousands. But Juniper created a sit-stand desk you can use for years without having to pay a hefty price.
Top Features of the Juniper Think Desk Standing Desk
While affordable compared to most other engineered wood standing desks, the Juniper Think Desk Standing desk has a few features that still make it stand out.
1. Durable surface materials
The surface of the standing desk is made from recycled materials covered in thermo-fused melamine. This means heat has been used to cover the surface with resistant material, suitable for intensive use and high wear resistance.
One of the problems cheap standing desks have is the surface scuff easily, show marks, and tends to wear out where your hands and accessories rest the most. This is not the case with thermo-fused melamine as the material is highly scratch-resistant.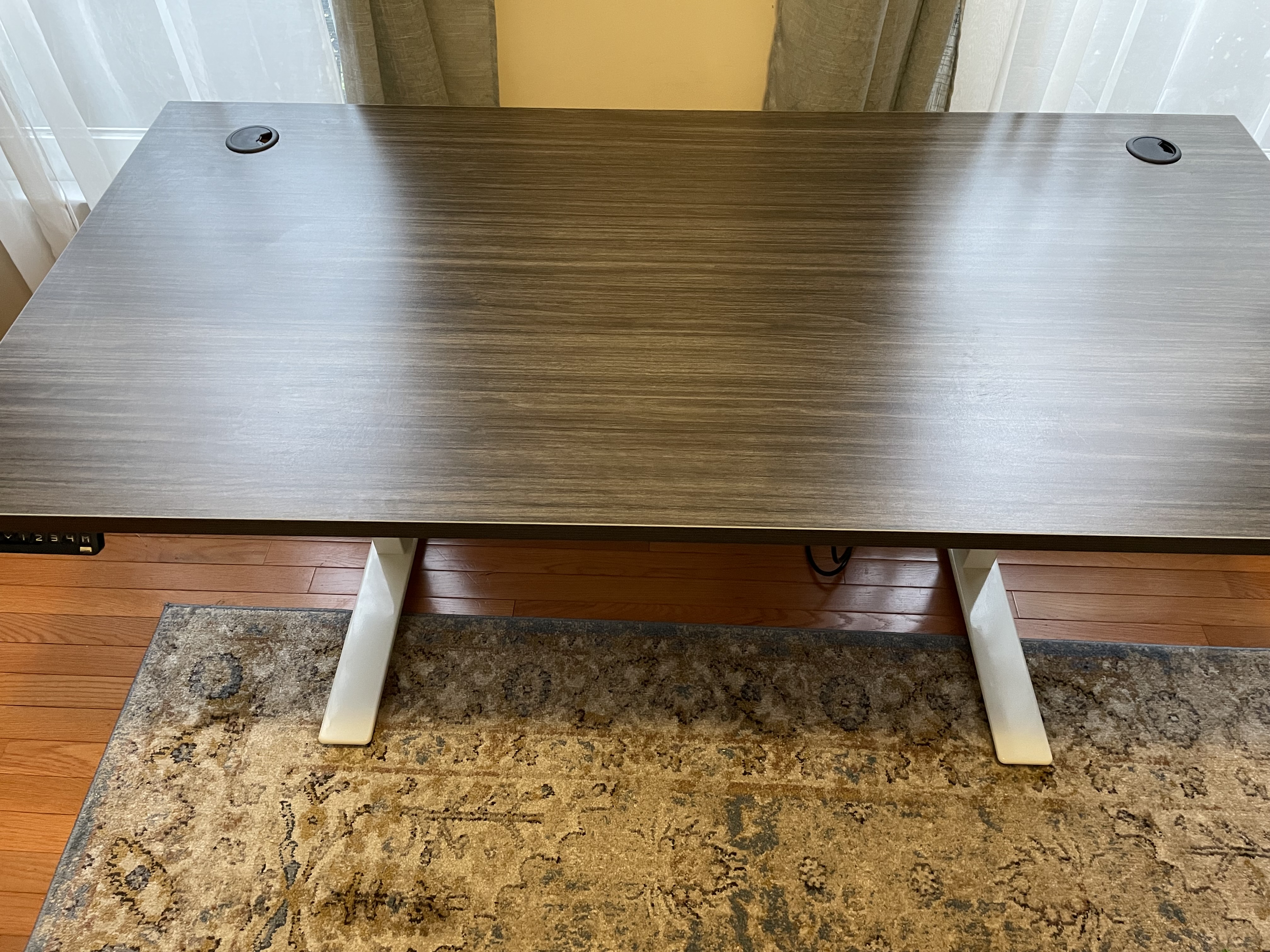 2. 6 surface sizes for various uses
Customization is one of the benefits of shopping directly from a manufacturer such as Juniper. Customers get to choose the size of the standing desk that fits their space and needs the best. When choosing the size of the Think Desk, users need to address the following.
3. Available space in the office
Smaller Think Desk standing desks are recommended for small spaces or for open-space offices where multiple workers are sat together. Larger desks are ideal for those who need more working space. Both of these types of desks need to take the available space into account, particularly at home where office space is limited.
4. Flexibility for different lines of work
An architect, a student, or a professional working with multiple files, spreadsheets, and documents needs a larger Think Desk compared to a student or a developer who only needs a laptop and a smaller Think Desk standing desk. Here are the main sizes these categories of users can consider.
24" x 48"
24" x 60"
24" x 72"
30" x 48"
30" x 60"
30" x 72"
All of these sizes come with the same color choices (black, white, maple, and oak) as well as with the same accessories and feet.
5. A digital headset for custom height adjustment levels
Think Desk offers a digital remote for height adjustments despite pricing in a category where height adjustments in standing desks are made with a manual lever. As in the best standing desks, this controller is ideal for preset height levels as well as for custom height.
Preset height is ideal for Juniper Think Desk users who prefer both sitting and standing during the day. This automatically takes the surface of the desk to a sitting position or to a standing position the user saves as most comfortable.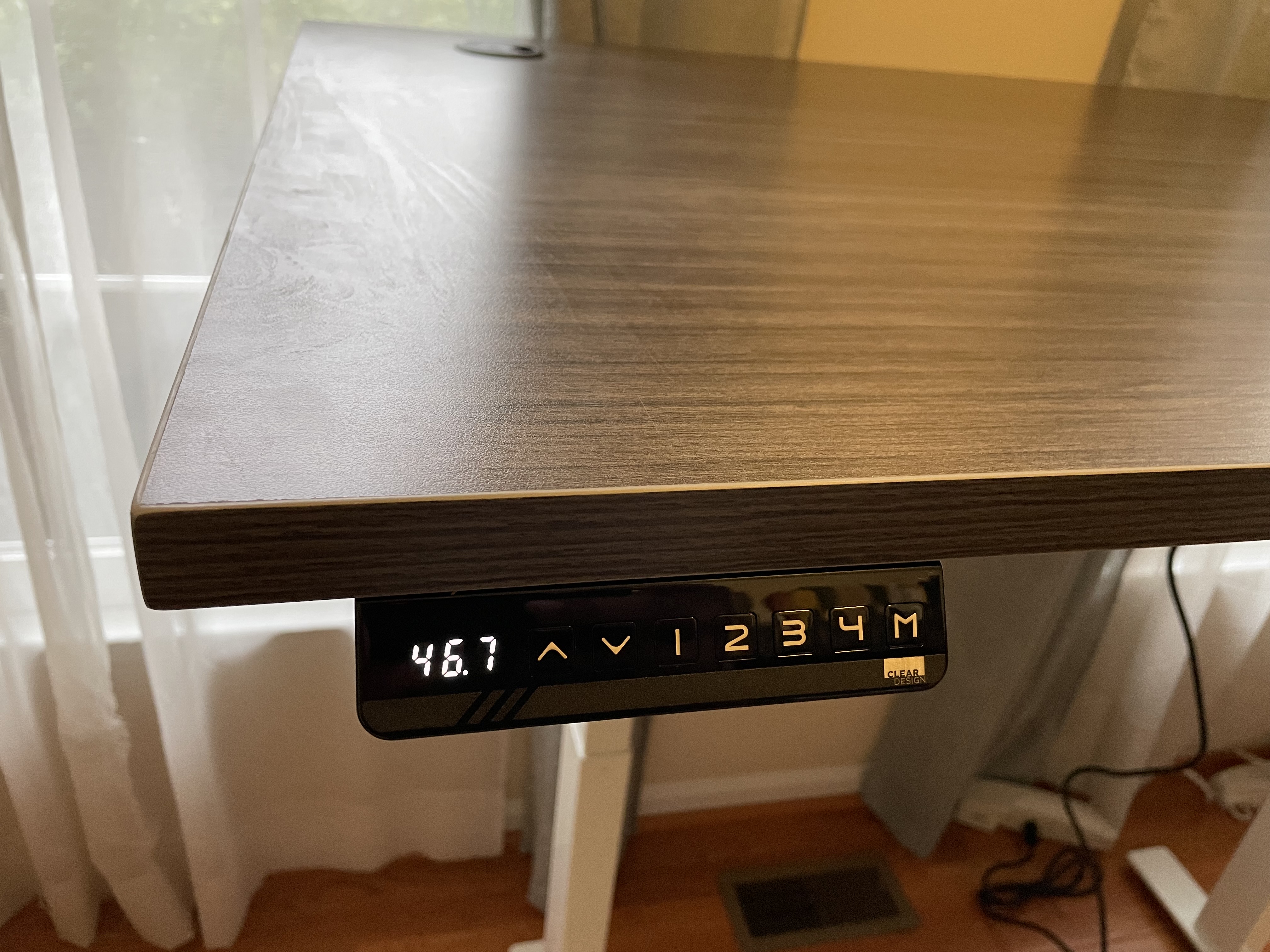 6. Anti-sag frame design for multi-monitor setups
The frame of the desk also impresses those coming from wobbling desks or sagging desks. A metal bar of the frame runs under the surface which prevents sagging. This is a long-term issue many standing desks suffer from regardless of their price.
7. Quiet dual and triple motor designs
The standard dual motor standing desk setup runs on 58dB. This is considered quiet performance compared to appliances you might have at home or the office. For example, it's quieter than a coffee grinder that works at 77dB. A washing machine has a comparable noise output of 50 to 75dB, making the standing desk quitter than these common appliances and a good choice for busy homes and large offices.
Specifications
220lbs maximum load capacity
Dual or triple motor design
1" thick surface available in multiple sizes
Thermo-infused melamine surface
Made from 95% recycled steel
Accessories include a power module, a dual monitor arm, and a cable tray
How to assemble
The Think Desk is not difficult to assemble. Illustrated instructions are available for each product. 
Attach legs to the center beam
The 2 legs of the metal frame need to be attached to the center beam that goes underneath the surface first. This is what gives stability to the entire desk.
Attach the frame to surface
You then need to attach the entire metal frame to the surface. The most difficult part about this task is drilling the holes on the back of the surface where the legs attach. A drill is best here.
What users say about the Juniper Think Desk Standing Desk
Users are very happy with the Juniper Think Desk Standing Desk, especially given how affordable it is. Here are the main positives most people talk about.
The surface is not hardwood as in some of the most expensive standing desks on the market. However, this thermally-treated melamine surface is ideal for keeping scratches away. Users also like they can keep their coffee mugs freely on the desk, unlike with other more pretentious materials.
The frame of the desk is mostly made out of recycled materials. These might be some of the best materials in this class when it comes to making a positive impact on the environment. Most users say they don't see a quality difference to standing desk legs made out of new metal.
The frame of the desk remains sturdy even when working while standing. There are many standing desks suffering from a wobble at maximum extension. But wobble is minimum on the Think Desk.
Great combination for sitting and standing
Standing desks are rarely used to stand all day. They are used together with chairs for a sit-stand work experience. This is why the Think Desk works great with its preset height adjustments levels which are designed for any work position.
Very clear assembly instructions
Incredibly, some brands don't offer assembly instructions for their standing desks. Juniper makes some of the best assembly instructions on the Think Desk. Clients appreciate these guidelines as well as the quick response customer service team.
Pros
One of the most affordable standing desk
Great selection of sizes and surface colors
Reduced noise on dual and triple motor designs
Durable anti-sag frame design
Detailed assembly instructions
Cons
Cable tray and power module sold separately
No hardwood surface option
The biggest limitation of the Juniper Think Desk
You need to drill holes for the surface. This can be an inconvenience if you don't have a drill at home. However, drilling your holes in the surface is not new in the standing desks world as users can decide where the surface stays on the legs and frame.
Where to buy
You can buy the Juniper Think Desk on the manufacturer's website. Juniper also offers quick shipping and responsive customer service. Customers receive the desk in 2 packages (one is the surface while the other is the frame).
Final words
Juniper Think Desk Standing Desk is one of the most affordable on the market. It offers a durable surface, sturdy frame, quiet 58dB motor action, and an anti-sag frame design. Users can accessorize thier standing desk with a cable tray and a power module. While these are offered by competing standing desks, they tend to add up to the acquisition cost of the desk considerably when buying together.
Juniper's standing desk comes in 6 sizes that cover both residential and commercial use needs. It does what it claims offering great practicality for any user and ergonomic adjustable standing and sitting positions for posture improvements. If you are considering Juniper to start standing at your desk, we highly recommend it!