Standing desks come in all types of different styles and sizes depending on what suits your needs and can be a confusing landscape to navigate. If you are anything like I was when I started looking at standing desks, you can get analysis paralysis trying to figure out what will work best for you. There are many different types of standing desks. I'll try to help make the decision easier for you by giving a quick rundown of the different options to get you started working at a standing desk.
Standing Desk Types
The main types of standing desks you will find are:
1. Full standing desk or adjustable height desk
2. Sit to standing desk converter
3. Desk riser
4. Fixed standing desk
5. DIY standing desks
DIY standing desks are an interesting option that I recommend you do first to get you started while you research and shop around. They are easy to pull together from a variety of items you likely have sitting around, or you can start with this popular $22 IKEA DIY Standing desk.  This way you get the feeling for what you like or don't like, and pulling the trigger on a specific type of desk isn't such a big unknown decision.  Let's take a look at the different options and what each standing desk type means, and the pros and cons of each.
1. Full Standing Desk or Adjustable Height Standing Desk
A Full Standing Desk or Adjustable Height Standing desk is exactly what it sounds like – this is an entire desk or workspace that rises up and down at your desired height. When most people say "standing desk" this is what they mean. These desks can be operated electric, by hand crank, or manually with a gas or spring assist levers. They can be found in a variety of styles and materials like laminate, bamboo, or L shaped and can be regular sizes, large, or oversized.   
The more popular full standing desks are Fully's Jarvis models, Uplift, Evodesk, and Varidesk.  Full standing desks are going to be the more expensive way to go with prices ranging $500 or more, especially powered desks, but with higher prices comes the most features and the best standing desk environment for some people.
Here are the pros and cons of a full or adjustable heightstanding desk:
Pros:
Full sized workspace options – other standing desk types are going to be smaller than an adjustable height desk and do not have as much workable desk space.
Electric control and customization – offers the most options for powered desks and customization compared to other desk types. Many have customization options for different heights for multiple people.
Stronger lift capability – Full sized standing desks are going to have stronger lift capability than other styles due to their size and range of materials they are produced in. The popular Jarvis Bamboo desk by Fully boasts a 350lb lift capacity.
Better Aesthetics – Full Adjustable Desks look more natural in the workspace because they are designed like a normal desk. Other types of standing desks either sit on existing desks or are made of different materials than the rest of the furniture in the office giving a more cumbersome and awkward look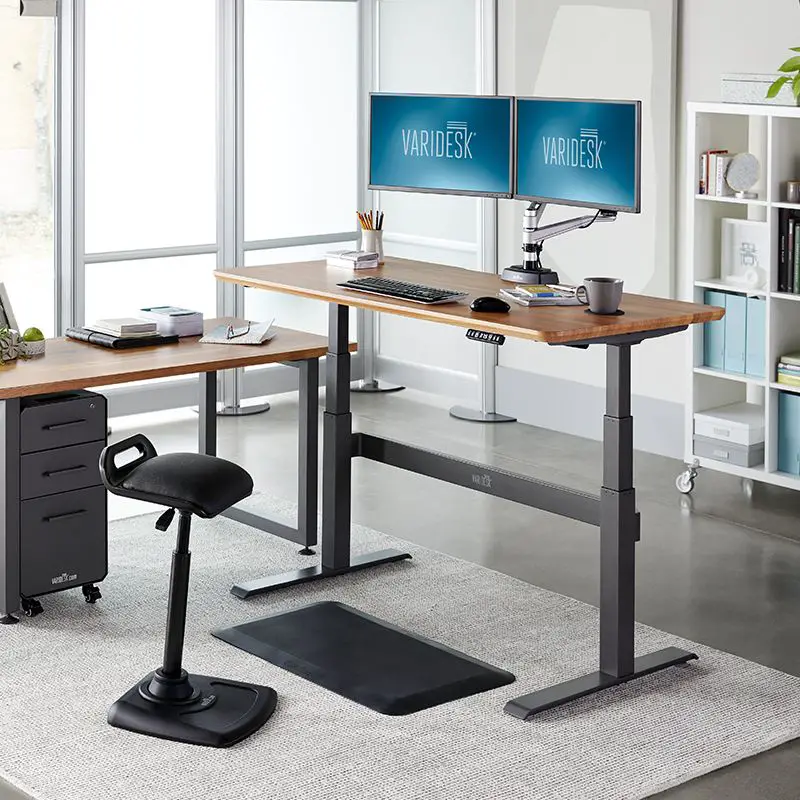 Cons:
More expensive – the cost for entry into the full adjustable standing desk space is higher than other options, with prices ranging from $500 into the $1000s. If you are on the fence about whether you will enjoy using a standing desk this could be a bad first option. If you have the funds and just know this is for you, then a full standing desk is a great way to go, and if you are using a standing desk already and want to upgrade to a more professional type of standing desk this is a great option.
The whole desk rises – when you raise a full desk into a standing position, the entire desk is lifted. Yes – this is obvious – but let me explain. Some people may just need or want their monitor screens and computer stations to lift into the standing position, and not the phone, printer, clock, lamp, candle … you get the idea. If you like having other items on your desk this may become awkward and is less of a problem with other style standing desks.
More permanent – this style desk is in some way a permanent option once you assemble it and set it up. You'll need to remove any existing desk you are using and switch over. If you plan on moving your desk it is possible, but it won't be as easy as moving a sit to stand converter desk or desk riser.
Check out Full Standing Desks on Amazon HERE
2. Sit to Standing Desk Converter
A sit to stand converter desk, or simply "converter desk," is a device you place or mount to your existing desk and you can raise it up/down to a desired height when you decide to stand. The popular models of converter desks are Varidesk, Ergotron Workfit (what I use now), Vivo, or Flexispot.  These desks also have powered options, or manual levers assisted by gas or springs. Your monitors can be mounted on the converter or simply rest on top of it, and there is typically a small tray for your keyboard and mouse.  They are typically made out of metal, or a mix of durable plastic and metal.
Sit to stand converters come in two different frame types – either Z Frame, where the legs of the converter are on each side like this: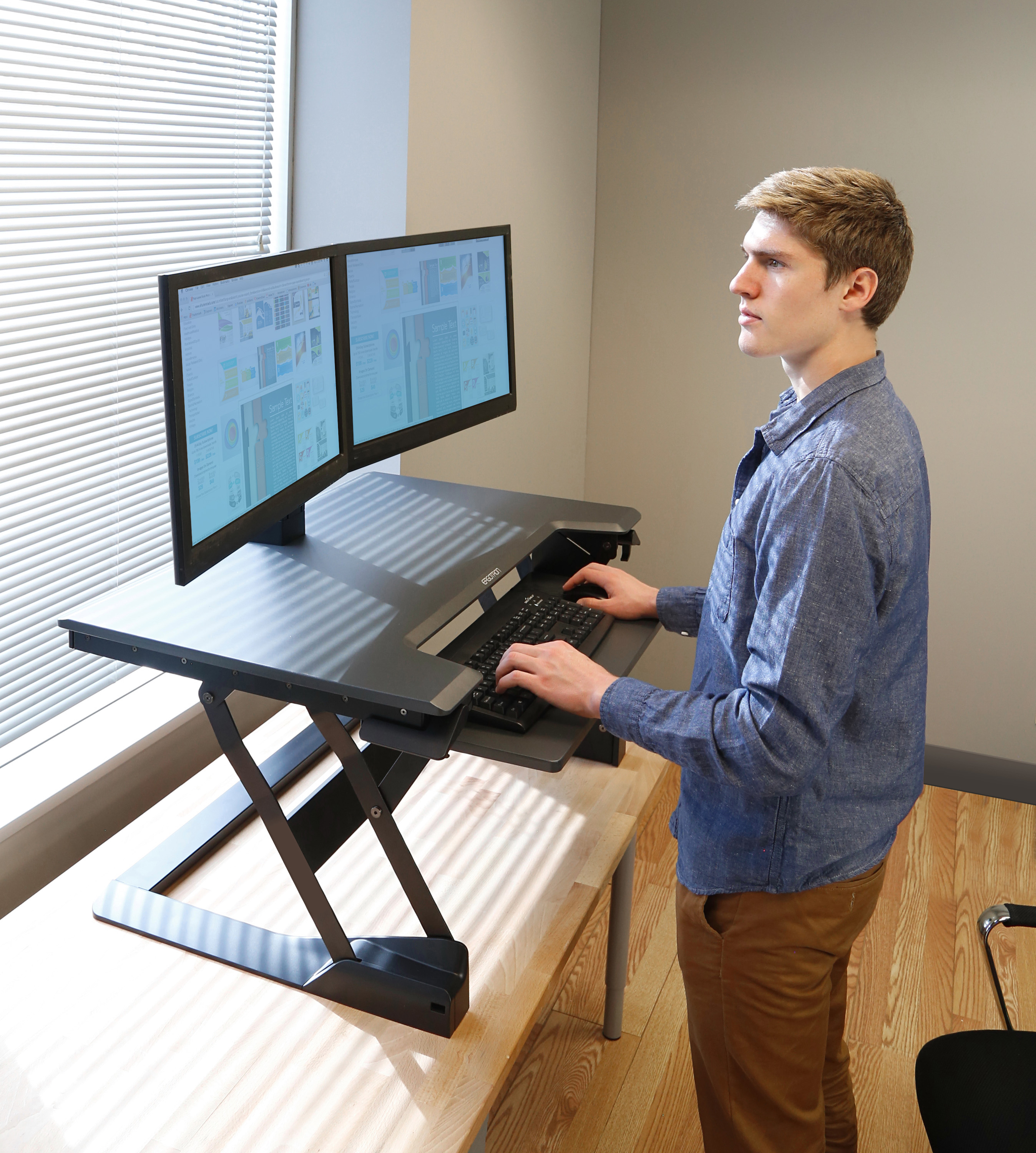 Or as an X Frame where the legs of the frame are underneath the converter like this: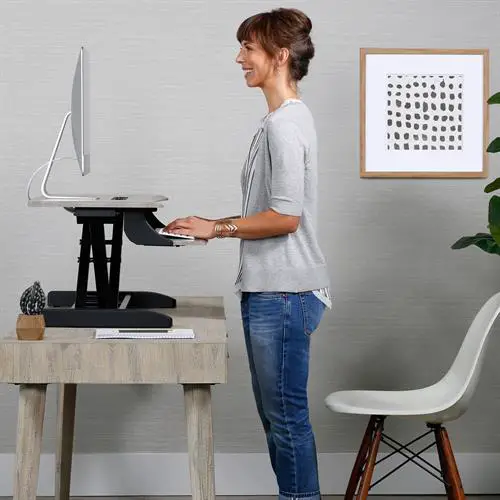 Personally, when I think of a "standing desk," I actually think of a sit to stand converter desk. It is the type of standing desk that I see most often when I travel from office space to office space, and is the typical gateway of entry for most standing desk users. Here are the pros and cons:
Pros:
Good price – Sit to stand converter desks are cheaper than full desks and offer the better price point for a true standing desk.  Although not the cheapest option, they make the most sense for typical workers and students. Many models range from $200-$400 and can be caught on sale for under $200.
Easier to Adjust – when operating manually, converter desks are easier to lift and move up and down on your existing desk (due to the smaller size than full desks) giving you the option to sit and stand throughout the day. It is important that you are not trying to stand the entire day and are taking occasional breaks and still sitting down, and converter desks make that easier.
Portable – most sit to standing converters are easy to pick up and move to a new location. They weigh less than a full desk, and when collapsed down can easily fit in a vehicle to transport to your new job, school, or home.
No Assembly Required – many sit to stand converters, like the Ergotron Workfit-TL I use, come fully assembled in the box. You simply pull it out, put it on your desk, and you're on your way. Some models still require minimal assembly so you'll want to verify before you purchase if that isn't your thing (especially powered converters)
Cons:
Less sturdy – converter desks will need to be mounted to your existing desk, and some models can be flimsy or wobbly.  Don't get me wrong, most brands attempt to provide a sturdy and quality product and my desk is very sturdy, but some converters will never be as sturdy as a full desk.
Bulky/visually awkward – they don't have a very natural look sitting on a mahogany desk.  This is not as much of a problem now that standing desks have become more common, and sit to stand converter desks are becoming more stylish.   I can attest they are now somewhat of a conversation starter and accepted look around the office.
Smaller Workspace – you won't be able to fit as much material on a sit to stand converter desk. There is plenty of room for two 24" monitors, a keyboard, mouse and paperwork on most models, but you will want to leave your coffee on your existing desk.
Check out the best Sit to Stand Converter desks on Amazon HERE
Desk Riser
A desk riser is a type of standing desk that is smaller than a converter but still provides the ability to stand while working. Desk risers can either be adjustable or fixed. If a desk riser is adjustable, it will have less range of motion than a full standing desk or converter, and is more suitable for a small computer or laptop. If the desk riser is fixed, it sits on top of an existing desk and provides a raised work surface.  Desk risers typically provide 18-30 inches of adjustability, are smaller and lighter, take up less space, and are easier to move between offices and jobs. Here is a summary of the pros and cons:
Pros:
Cheap entry option–  Desk risers are cheaper than the first two options, and are a good option for just getting started with the standing desk lifestyle. Prices range in the $200-$250 but you can find a good deal below $200 from time to time
Light weight and small – If a large, moveable desk isn't what you are looking for, or you don't have the space to add a converter desk to your existing desk, a desk riser is a good option. It will take up less space on top of your desk, and is easy to move if you switch offices or wish to take it home
Cons:
Too Small – desk risers can be too small for full office functionality and are more suited for home offices or smaller desk spaces. Will also only fit a smaller computer or laptop
Less durable – depending on the version, desk risers will be less durable than a full standing desk and the material won't feel as sturdy
Fixed Standing Desk
A fixed standing desk is exactly how it reads – a fixed desk that does not move. The type of standing desk is simply much taller than a typical desk (48" to60" inches) and not adjustable.  A drafting table, speaking podium, tall table are examples of fixed standing desks.  Fixed desks are sturdier and blend more naturally with furniture in a house or sitting area, as opposed to an office, and come in all types of materials. Drafting tables are the most common pieces of furniture that people will use as a standing desk. Here are some pros and cons of a fixed desk.
Pros:
No adjusting – With a fixed standing desk, you won't have to worry about adjusting up or down and whether or not the desk is sturdy enough. It is always positioned at the same height and available for use as a standing desk
Sturdy materials – a fixed standing desk is typically made of real wood or a similar sturdy material and will be able to support any computer or desk setup that you are looking for
More features – because a fixed desk is an actual furniture piece it will also offer more drawers, shelves, and features for everyday use. A drafting table for example will have a tilt able drafting surface that is convenient for some applications.
Cons:
Not adjustable – this is the obvious downside of a fixed standing desk. Most standing desk users will want the opportunity to adjust their desk to a sitting mode.  This is actually recommended since standing all day long can actually cause pain or damage to your body. A fixed desk is better if you'll be sitting elsewhere or in other rooms
Expensive – depending on the material or type of furniture piece a fixed desk can cost more than a standard standing desk because you are getting more than just a standing set up.
Check some great drafting tables on Amazon HERE
Do It Yourself (DIY) Standing Desk
DIY standing desks are a great option for you to get you started while you research and shop around for the exact type of standing desk that will work for you. They are easy to pull together from a variety of items you likely have sitting around, or you can start with this popular IKEA DIY standing desk that people around the web are building for just $22.  This way you get the feeling for what you like, or don't like, and pulling the trigger on a specific type of desk isn't such a big unknown decision.  Here are ideas that I have seen across the workforce:
DIY Standing Desk from Printer Paper Boxes or stacked reamsof paper
DIY Standing Desk from coffee table or end table on top ofdesk
DIY Standing Desk from amazon boxes
You get the idea, a DIY desk can be made from anything andyou can use whatever it takes to get your desk raised up so you can startstanding.
Pros:
Cheap and Easy – you can start now with anything in the office or around the house. This can help you determine what you like or don't like about standing desks and decide what type of upgrade to go with.
Not permanent- DIY desks aren't permanent and if you don't like it you can toss it without any loss
Cons:
There aren't any true cons with a DIY desk other than it isn't a real desk. Whatever you make it out of will come with disadvantages until you choose a real option.
Standing desks come in many different types and sizes and can be a difficult landscape to understand. Some companies will use different terms for their type of desk compared to another, but once you understand the basic designs it can be easier to decide.  When I started researching standing desks it was difficult to navigate but after some research on Reddit and other popular sites it is now much easier. I hope you understand the different types of standing desks better and can now get started working at a standing desk. Post below what type of desk you decide to use and let us know what you think!