Standing desks and sit to stand converter desks are a great resource to improve your health while working or using a computer. In order to get the most out of this type of office set up, you want to be sure that you are using the appropriate height for a standing desk. So how high should a standing desk be?
The average height of most men according to ourworldindata.com is 5'8"
Your standing desk should be 42 inches high if you are 5'8". Let's take a look at some factors that help determine standing desk height.
3 Factors to determine how high a standing desk should be:
1. Elbows at a 90 Degree Angle
First, ensure that your standing desk height allows for your elbows to be at or as close to a 90 degree angle.
This will position your wrists comfortably and parallel to your desk. It's ok if your hands hang slightly, with your wrists bent down comfortably. Ideally, you're positioning is parallel.
Your shoulders should hang naturally and your hands and wrists should rest naturally at your keyboard surface
2. Look Straight Ahead
Second, ensure your eyes are looking straight forward at your monitor, and not down or up. An important tip for determining your standing desk height is to have your monitor or laptop at a height that allows you to look straight forward.
This keeps your neck in alignment with your spine and avoids tilting your head down or up. A slight downward variation may be ok from person to person.
Anything extreme will put unnecessary pressure on your neck, shoulders, and back and could possibly cause your desk to be bad for you.
3. Stand Up Straight
The third reason you want your standing desk at the correct height is to ensure you are standing up straight with the best posture when using your standing desk.
By having your elbows at a 90 degree angle and your eyes looking forward, you avoid hunching over, leaning on your desk, or shifting all your weight to one side.
This way you can maintain good posture, enjoy the many benefits of a standing desk, and avoid the common pitfalls that lead to pain when using a standing desk.
So what height should a standing desk be?
That depends on your own height and what will work best to ensure your elbows are in the correct position and you are looking straight ahead. Are you 5'7"? Then probably around 41 inches high. Are you 5'9" but known for having long arms? Your desk may also be a 41 inch standing height.
For most people, the proper height for a standing desk will range from 40-44 inches.
The table below provides a quick reference guide for where you can start to help you decide the appropriate height for your standing desk. From there, you can make minor adjustments to suit your comfort level.
You may also find this standing desk height calculator a useful tool to determine the best standing desk height for you: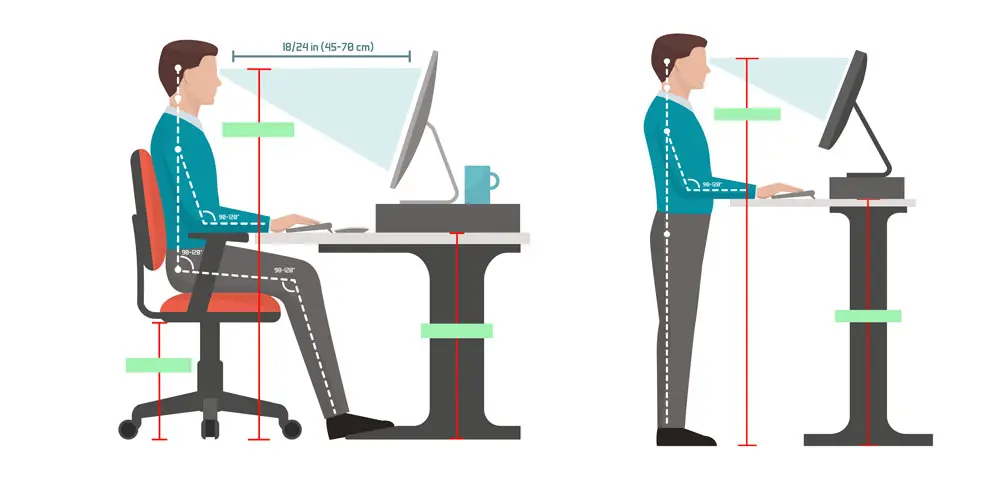 Things to consider when choosing how high your standing desk should be
Most standing desks come in a height range from 24" to 52". This should work for almost all people. The popular Fully Jarvis Desk for instance, has an adjustable height range of 29 to 48.5 inches in their midrange desk and 24.5 to 50 inches in the extended range desk.
For very tall individuals, lets say 6'4″ and taller, you'll need to consider a brand with a taller height range option, like the Fully Jarvis Extended or iMovr Lander desk. You can also add a monitor arm and a keyboard stand to cover the last few inches if you own a desk already that does not go high enough.
Full size standing desks can also be more wobbly at their highest setting, so perhaps for a much taller individual, a sit to stand converter desk is a more stable and ideal option.
Using a Sit to Stand Converter Desk? How high is your existing desktop?
Another consideration when choosing a standing desk that is the appropriate height is if you are going to use a sit to stand converter desk on an existing desktop.
Sit to stand converter desks are designed to be placed on your existing desk or office space. You'll want to know how tall your every day desk is before choosing which sit to stand converter desk is right for you.
Most standard desks are 28-30 inches tall. Conversion desks are typically 4-5 inches tall when collapsed fully in the down position, so your starting height is now 33-35 inches when sitting.
Take the Ergotron Workfit- TL for instance. The height range for this adjustable desk is up to 20 inches (15 inches of expansion on a 5 inch base).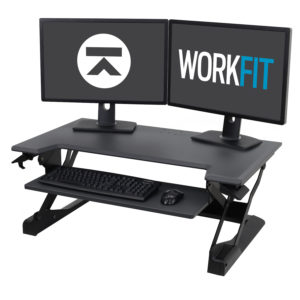 To determine if this height will work for you, you'll need to add the height of your existing desk to the possible range settings to get the right height setting for you.
Existing Desk + converter base + converter range = Standing desk height
If your existing desk is 30 inches tall, your start point is now 35 with a WorkFit-TL. To switch to standing you'll most likely only need 10-12 more inches. In this case the Ergotron WorkFit-TL will work for you because it has a range of 15 inches. I am 6'2" and it worked well for me. Here is an example of sit to stand converter desk dimensions.
Believe it or not, some cheaper sit to stand converter desks won't even go this high so just be aware and research the height range that works best for your existing desk.
The opposite is also true. If you are not very tall and are trying to determine the optimal standing desk height for a shorter person you need to factor in these measurements to make sure the starting point is not too tall.
Benefits of knowing what height your standing desk should be
Using the proper height for your standing desk may sound trivial, but it is absolutely critical to your success maintaining a standing lifestyle. I've discussed the benefits of a standing desk quite a bit, but these desks can also have bad side effects if not used properly.
Improper standing height settings will start you down the path of bad posture and instead of helping your back, becoming more flexible and energetic you will feel achey and sore.
Using your standing desk at the incorrect height will cause your neck to tilt, your back to be out of alignment, and your wrists to bend or kink instead of lay flat and natural.
This is how standing desks get a bad reputation and cause some people to question if standing desks are good for you.
Determining how high your standing desk should be is an important factor in choosing which standing desk works best for you, and enjoying using your desk for years to come. The proper standing height, posture, and habits while using your desk will all combine to making it the life changing decision most people hope it will be. Good luck standing at the appropriate height for your standing desk and keep standing!