Standing desks seem to be all the rage around offices and schools. If you aren't familiar with standing desks and just started researching this trend, it can seem like there is a lot of information out there about whether standing desks are good for you, and what are the pros and cons of standing desks.
We provide as much useful information we can about standing desks on our website and in this article we will cover some of the most common pros and cons of standing desks. Let's get started with the Pros.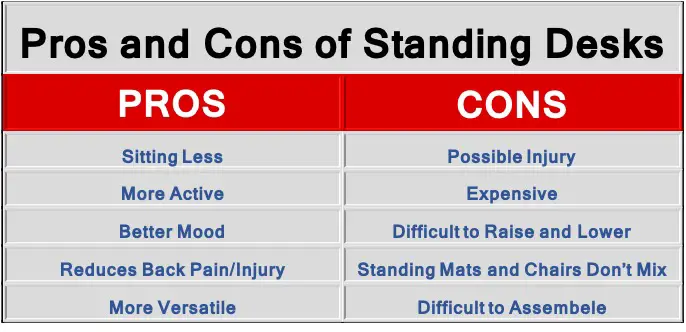 5 Pros of Standing Desks:
1. Sitting less. the frequent tag line you'll here with standing desks is that "sitting is the new smoking." The reason for this is that studies are showing that sitting for long periods leads to the same risks of smoking. Overtime, sitting and leading a sedentary lifestyle increases the risks of obesity, high cholesterol, etc. so it is good to not sit all day long and is one of the first things that comes up when discussing pros and cons of standing desks.
2. Standing Desks make you more active. Once you are standing at your desk instead of sitting, you are more inclined to move around and even walk away from your desk to take a stroll or go visit a coworker more often. It is a natural progression to becoming more active, especially if you were sitting at your desk all day before. I also started using the stairs at work more often and skipping the elevator to stretch my legs. This has an exponential affect as well, because as you get more fit and used to your desk, the more active you will be.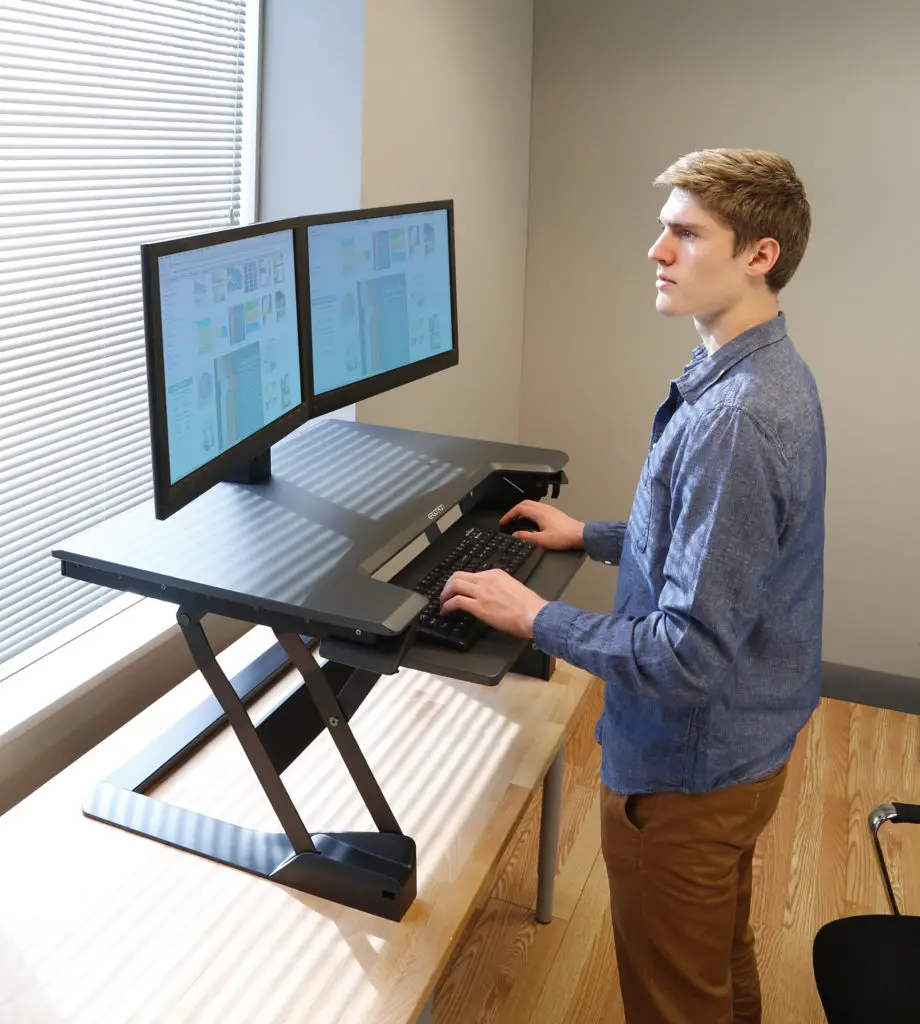 3. Standing Puts You In a Better mood. Standing at your desk instead of sitting also increases blood flow and endorphins and this all leads to a mode positive attitude, confidence, and feeling happier. I immediately felt more confident and sure of myself at work when using a standing desk. Talking to other people who are standing while you are sitting is a awkward position to be in. When you are standing you are eye to eye and engaged more dynamically. I also felt more confident on the phone, simply from standing and sounding more focused. Having a better mood is one of my favorite pros of standing desks.
4. Standing more than sitting reduces back pain and other muscular skeletal problems. Standing up tall vs sitting takes pressure off your back and increases flexibility, reducing the strain on your back and helps prevent lower back problems. Additionally, if you do not have a good ergonomic chair, you could be sitting with improper curvature of your back. By standing at your desk, you allow your back to stretch out into its natural position and reduce the pressure that other muscles could place on your back. Sitting for extended periods of time causes your hips and the muscles of your legs to tighten up as well. Tighter hips/hamstrings/quadriceps lead to other problems and injuries that someone might not realize was from sitting all day long.
5. Standing Desks have more options and a more versatile workspace. Let's face it. The typical desk setup – square desk, keyboard and monitor centered, mouse pad and coffee cup – day after day year after year can get mundane and boring. Most people picture themselves sitting at their desk when thinking about how they dread going to work. Changing to a standing desk gives your workspace more options, and makes it more interesting and versatile. Be prepared to talk about your cool new setup and answer questions from coworkers about how you like using a standing desk, and what you think are the pros and cons of standing desks!
Okay, so those are some of the pros of standing desks. Now, we will cover the cons of standing desks.
5 Cons of Standing Desks
1. Possibly Cause Injuries. Standing for too long, especially when you first start using a standing desk, with bad posture can be detrimental to your health and lead to injury. A frequently cited Harvard health blog details the possible negatives of standing for too long including neck and back injuries. Ensure that you are taking breaks from standing, and that you have good posture. Adding a standing mat will also help with enjoying your standing desk. When I first starting using a standing desk I experienced some pain in my thigh and hip. Once I pin pointed the problem was pformis syndrome I corrected my posture, stretched while using my desk, and overcame this con of standing desks.
2. Standing Desks are Expensive. Standing desks are an added cost to a typical office setup, and some full sized standing desks can cost over $1000. Even if you're looking to buy a budget desk, most will start around $200 or more which can be cost prohibitive for some people, making price a con of standing desks. Because of these high costs, some people get stuck in analysis paralysis trying to decide what will be the best deal for them. It is not uncommon to find an "uplift vs fully?"or "which desk is best?" type of question on Reddit.com as people try to determine which desk they want to spend that kind of money on. If cost is an issue for you, you can always start with a good DIY setup with items around your home or office. Also, there are decent sales on some of the best standing desks from time to time. Black Friday is also an excellent time to make a large purchase like a standing desk.
3. Difficult to Move up and Down. It is important that you alternate between sitting and standing as mentioned before, however raising and lowering a standing desk can be a cumbersome task. If you don't have a powered desk, raising the desk requires lifting the desk yourself (with assistance from gas pistons) or using a hand crank. Neither are very difficult impossible, but depending on your strength – moving your desk can sometimes feel like a burden. Even if the desk is powered, raising and lowering the desk changes the position of cords and monitors that can be difficult to keep track of and to adjust. Fortunately, most desk manufacturers provide accessories like cord management and monitor arms for functionality that will alleviate this problem. Depending on your situation, the move ability of your desk is a common pro and con of standing desks.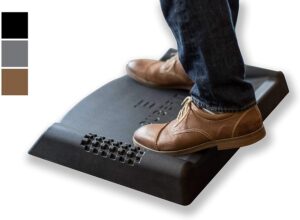 4. Standing Mats and Chairs Don't Mix. This is not an obvious con of using a standing desk when you first get one – after all, standing mats are a great addition to relieve pressure on your feet and joints and ensure you stay healthy at your standing desk. However, after you add a standing mat you discover they don't work well with chairs. When alternating from standing to sitting, chairs with wheels can't move over the standing mat and your mat has to be moved out of the way. After moving, it still gets in the way and is awkward to prop up out of the way, and takes up space. Some mats make up for this with a hook to hang it or a size that fits under the desk easily. But there's no getting around this dilemma, the standing mat doesn't mix with chairs making standing mats both a pro and con of standing desks.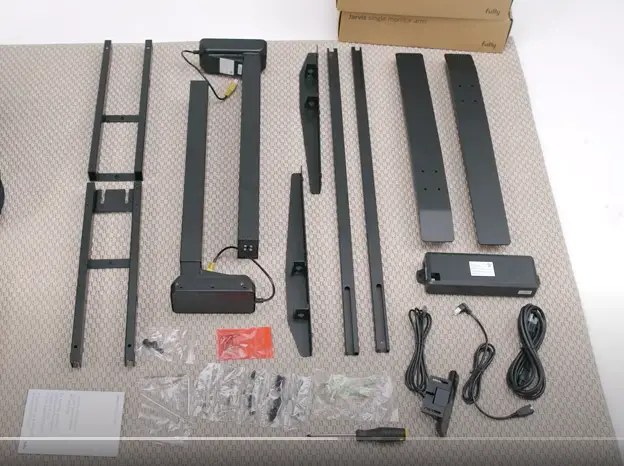 5. Standing Desks are Difficult to Assemble. Standing desks have a lot of moving pieces to make them work properly and can make assembly more challenging than typical furniture. Some standing desk converters come assembled right out of the box, however, popular full-size standing desk models like Fully Jarvis, Uplift V2, Vari ProDesk etc. require complex assembly. If you are handy, the assembly shouldn't be too much and there are good videos and step by step guides online to help you. If you're not someone who is handy you're going to need to take your time or need assistance to help you.
There are many pros and cons of standing desks and these are just some of the more common. Every persons experience will be different but ultimately the pros outweighs the cons of standing desks. Standing desks are a fantastic way to improve your lifestyle at work or at home. Also, many of the cons can be counter acted by good posture and awareness of using a standing desk. Hope this list of pros and cons of standing desks was helpful for you to make a decision to buy a stand up desk and start standing!