Every year the most popular review sites publish their expert reviews for the best standing desks on the market. There are many benefits of using a standing desk and these researchers are highlighting some of the best standing desks year after year. They physically test each one side by side for functionality, assembly, disassembly, price, durability etc. These experts don't necessarily "use" these standing desks everyday but they do their best to give buyers a quality assessment on which standing desks are the best and will give you the best experience using a standing desk. After reviewing their picks, here is a comparison chart of each website's top picks, what they thought stood out most, and the overall winner with highest the average.
Expert Picks: Best Standing Desk 2020
| Expert Website: | Rank #1 | Rank #2 |
| --- | --- | --- |
| BTOD | New Heights Elegante XT | VertDesk V3 |
| Wirecutter | Uplift V2 Bamboo | Fully Jarvis Bamboo |
| reviews.com | Fully Jarvis Bamboo | Uplift V2 Bamboo |
| IGN.com | VariDesk ProDesk 60 | Fully Jarvis Bamboo |
| Forbes | Ulplift V2 Bamboo | VariDesk ProDesk 60 |
| TechRadar | Uplift V2 Bamboo | ApexDesk Elite |
#1 Uplift V2 Standing Desk
As you can see, the Uplift V2 is the overall winner for best standing desk in 2022 from the experts . The Uplift V2 is listed number 1 by three sites and comes in 2nd for two. Of the 6 sites that ranked on the first page of google for best standing desk in 2022, 5 of them include the Uplift V2 in their top 2. Only IGN does not rank this standing desk at the top. I found this Uplift V2 review very thorough and helpful while researching this desk. Here are some of the great features of the Uplift V2 that these sites describe separate it from the rest:
–Top-notch build quality
–Excellent stability
–Moves smoothly and quietly quickly
–7 year warranty
Check out the Uplift V2 on Amazon here:
#2 Fully Jarvis Bamboo Standing Desk
The Fully Jarvis Bamboo standing desk comes in a close second to the Uplift V2, and in recent years was frequently listed as the number 1 standing desk on the market. I found this very thorough Jarvis Bamboo review very helpful when researching this standing desk. Ryan over at geekdad.com says "The Jarvis is a pleasure to use. The desk itself is just an open expanse of space, which it what I want in a desk, and the ability to raise and lower it with ease makes my time at the desk so much more pleasurable….The Jarvis is a great price (starting at $395), especially when I compare it to other desks I've owned and the motorized Jarvis, allowing me to sit or stand, offers so much more than any desk I've ever used." 
Here are key features that keep the Jarvis bamboo standing desk in the top two best standing desks for 2022:
–Very stable – low center of gravity
–Sleek
–Lots of desktop options and add ons
–7 year warranty
Check out the Fully Jarvis Standing Desk from Amazon here:
#3 Varidesk ProDesk 60 Standing Desk
The Varidesk ProDesk 60 comes in overall third place on this years list. The ProDesk 60 receives a top ranking according to IGN.com and a second place finish from Forbes.com. Varidesk (now called Vari) is an industry leading designer of standing desks and office equipment and is well known for their patented and innovative designs all of which can be seen with the ProDesk 60.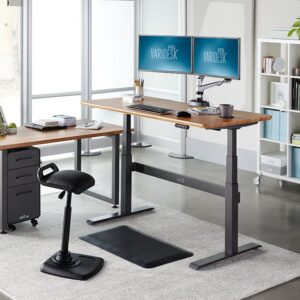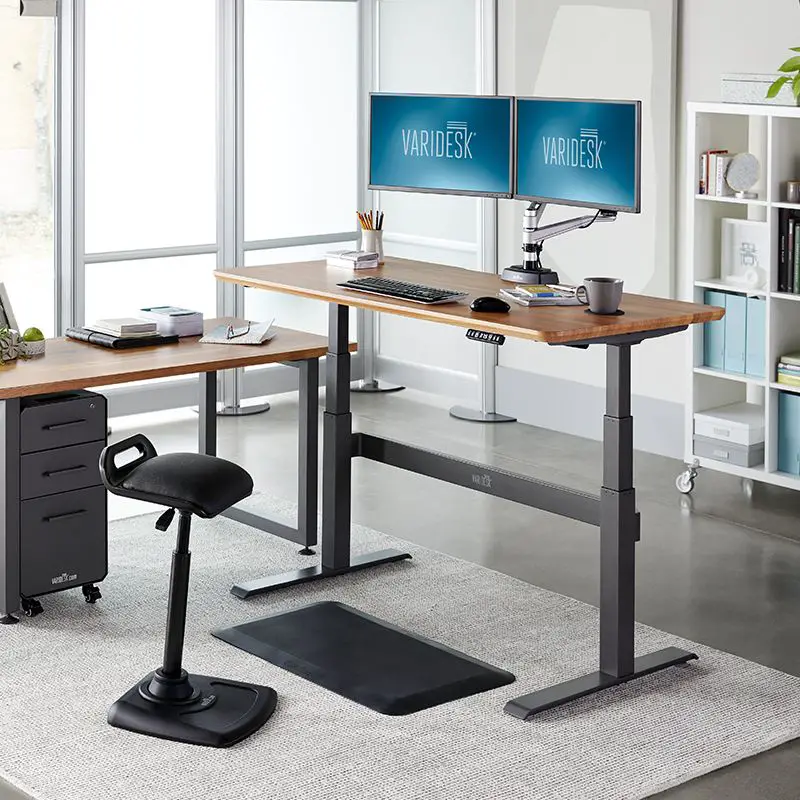 IGN featured the Pro 60 because they found it easy to assemble (less than 10 minutes), features a spacious 60-inch wide work surface, and has a steel crossbar which helps reduce vibrations and improve stability. Known for their expertise in gaming, IGN's high ranking of the ProDesk 60 also shows its appeal to gamers as a good standing desk for gaming.
Similar to the Jarvis and Uplift Desks, the ProDesk 60 is mounted on a pair of motorized legs and with the push of a button it's electric motor adjusts the height of your setup between 25.5 inches high to 50.5 inches. The table top surface comes in five design options of Butcher Block, Reclaimed Wood, Darkwood, White, and Black. I found this detailed review full of pictures and assembly very useful when researching this desk. Here are a few of the great qualities that keep the ProDesk 60 in the top five:
–Easy to Assemble
–Large 60 inch surface
–Added Stability from steel cross bar
–Quiet motor
–5 year Warranty
Check out the Vari Pro 60 on amazon here:
So there you have it, according to the experts across the internet the Uplift V2 takes the prize as standing desk king for 2022 with the Fully Jarvis Bamboo coming in a close second. Both desks are highly reviewed and recommended on amazon and reddit and in my opinion you cant go wrong with either of these desks as excellent options to use as your next standing desk.
Rounding out the rest of the top 5 desks based on the reviews and recommendations of the experts across the Internet here is the final list:
Uplift V2
Fully Jarvis Bamboo
Varidesk ProDesk 60
VertDesk V3
ApexDesk Elite
Best of luck in your search and if you decide to use one of these best standing desks in 2022 please let us know how it goes!