VariDesk is an industry leading designer and supplier of standing desks and the VariDesk Pro Plus 36 is one of their most popular standing desks.  This VariDesk Pro Plus 36 review will cover everything you need to know about this excellent standing desk converter. We will provide a detailed description, specifications, characteristics and real user experience and reviews.  This will hopefully assist you with making a decision to start standing at your desk today!
Let's jump in to the review!
VariDesk Pro Plus Desk 36
| | |
| --- | --- |
| Max Height | 17.5 in (44.5 cm) |
| Min Height | 4.5 in (11.5 cm) |
| Max Weight | 35 lb (15.8 kg) |
| Lift Mechanism | Spring assist Dual lever |
| Frame Type | Z frame |
| Height Settings | 11 Settings |
| Overall Dimensions | 36 in x 29.75 in |
| Top | 36 in x 20 in |
| Tray | 20 x 14 in |
| Feet | 24 in |
The VariDesk Brand
VariDesk, or now Vari, created the original VariDesk in 2012 for a colleague who needed a simple way to stand up at work to relieve his back pain.  The original VariDesk sit to stand desk converter set the standard for the industry and inspired a whole new market of standing desks and standing desk converters.
The mission at Vari is to "create workspaces that elevate people." They accomplish this through "quality products, excellent customer service, and quick delivery of products." Vari is well known to be a reliable and focused business with their user's experience first in mind.
Today, Vari continues to offer quality, affordable, and simple office products to include the VariDesk Pro Plus 36 and many other standing desks and office furniture. 
They are featured in over 98% of Fortune 500 company office spaces and continue to help others stand up at work either to relieve back pain or enjoy the many benefits of using a standing desk. 
You can check the price of the VariDesk Pro Plus 36 from Amazon HERE
Lets take a look at the VariDesk Pro Plus 36 now.
VariDesk Pro Plus 36 Review
The VariDesk Pro Plus 36 ships quickly from Vari, and comes fully assembled and ready to go out of the box. This is an excellent feature that can get you started within a week from ordering.  Just place it on top of your existing desk and you a ready to start standing.
This desk has a sleek body, sturdy construction, and a two-tiered design with tons of workspace – 36 inches to be exact.  If that is too little or too much for you, Vari does offer the Pro Plus in a 30 inch and 48 inch designs.
Two-tiered Design
The two-tiered design allows for ample workspace to place two 24-30 inch monitors and still have room for your keyboard, mouse, and coffee.  If you aren't using a dual monitor setup, there is plenty of room for a laptop or tablet and external monitor as well.
The sturdy design, as with all Vari desks, allows for a max lift capacity of 35 lbs (15.8kg) while remaining very stable at the highest setting.  This desk has 11 separate height setting ranging from 4 and ½ inches to 17 and ½ inches. 
Depending on the height of your existing desk, the best standing height for your VariDesk Pro Plus 36 can accommodate between 5'0″ to 6'3".  This standing height is very dependent on your existing desk and can be calculated here.
Spring-Assisted Height Adjustment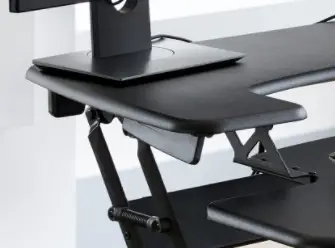 The VariDesk Pro Plus 36 comes with Vari's patented spring assisted dual levers that make raising and lowering the converter desk simple and easy on your back.  The X frame allows for the desk to raise up with little effort and it extends toward you as you raise it.
If you have a heavier set up or are worried about not being strong enough to raise and lower the desk you can always go with the VariDesk Pro Plus 36 electric. This will eliminate any concerns for weaker or smaller individuals.
How much does the VariDesk Pro Plus 36 Weigh?
This desk can hold up to 35 lbs (15.8kg) and weighs 48 lbs assembled and out of the box. The spring assisted levers make lifting this desk a cinch.
Think the VariDesk Pro Plus 36 is right for you? You can purchase on Amazon HERE
VariDesk Pro Plus 36 Specifications: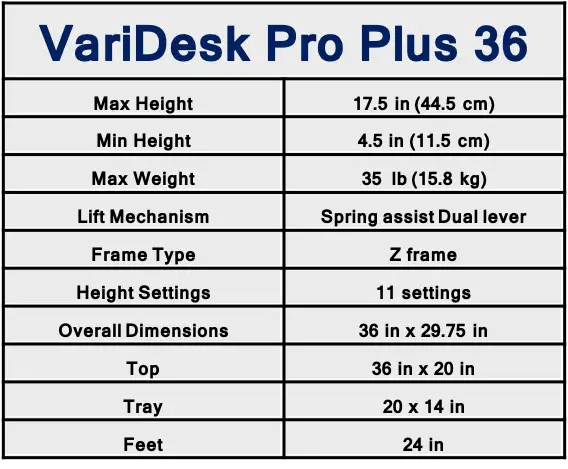 You can download the full specification sheet from Vari.com here: VariDesk Pro Plus 36 Specification sheet
You can also watch this video from Vari.com providing a short overview of the VariDesk Pro Plus series
What do users have to say about the VariDesk Pro Plus 36?
Here are some other reviews from around the web:
5 Stars – "I purchased this so that I could have more desk room and be able to stand through some of my day. Working from home it is very easy to become very complacent. This allows me to keep energized, alert, concentrated and moving!" – Kimberly
5 Stars – "I'm so happy with my desk! It's exceptionally sturdy, which is important not because of the weight of the monitor that it's holding, but because I've discovered that I'm inclined to rest my elbows on it and so add that burden to its load. It raises and lowers easily, but isn't flimsy, so that when I type, the surface is stable….I'm glad that I did my homework and found the VariDesk because having used it for a week, I can see how a cheaper model just wouldn't cut it and would be driving my nuts by now" – Amy
5 Stars – "This is the 2nd VariDesk I've had the pleasure of using. Completely solid and saves my back and neck from all the hours at a desk. No assembly required! This is worth every penny." T.B.
2 Stars – "Sent back to purchase and Ergotron.  We had one of each, before buying more. The Varidesk rises, but also moves substantially towards you, making it less sturdy, especially if someone leans against it. The Ergotron raises straight up and is much more stable, so we returned the Varidesk and bought all Ergotron." F.B.
Here are some screen shots from Reddit users that decided to purchase the VariDesk Pro Plus 36 desk: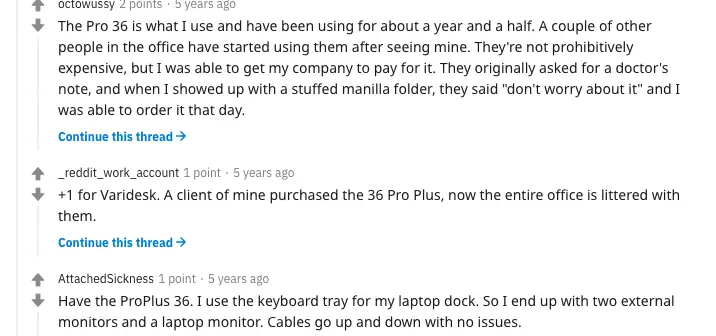 As you can see, the VariDesk ProPlus 36 has thousdands of reviews across the web with an overall average of 4.8-5 Stars. Although very highly rated, the occasionally negative experience is out there, but the most common experience is the sleek design, and reliable construction that comes from a recognizable brand such as Vari.
Check out more reviews on Amazon here: VariDesk Pro Plus 36 Amazon Reviews
VariDesk Pro Plus 36 Video Review
Here is an excellent video review of the VariDesk Pro Plus 36 from Average Tech Guy that covers the desk from buying, shipping, to setting up and user experience:
The best part of this review is that he mentions how easy it is to set up after arriving already assembled, that the desk is not very heavy, and it is easy to adjust up and down. These are all critical questions people have when they are trying to choose a standing desk.
Is a VariDesk Pro Plus 36 Standing Desk right for you?
If you are reading this VariDesk Pro Plus 36 review and thinking about buying this desk you may also be trying to determine if this sit to stand converter desk is right for you?
First, you need to determine a few things to help decide which type of standing desk works for you:
Determine where you will use your desk – office vs home, space available or on existing desk
Determine that the desk will fit you and your height, and average standing position height
Will you need accessories or add ons to support your desk experience?
Will you need to assemble your desk or not? Can you?
Understand how to stand properly at a standing desk depending on desk type
Standing desks come in different types and sizes depending on what suits your needs. The main types of standing desks you will see are full standing desk or adjustable height desk, a standing desk converter, a desk riser, a fixed standing desk, and lastly – a DIY standing desks.
The VariDesk Pro Plus 36 is a standing desk converter.
A standing desk converter, or simply "converter desk," is a frame you place on  your existing desk and you can raise it up and down to a desired height.  Other popular models of converter desks are Ergotron, Vivo, or Flexispot. 
These desks typically come with either an electrically powered option, or manual levers assisted by gas or springs. Your monitors can be mounted on the converter or simply rest on top of it, and there is typically tray for your keyboard and mouse. 
They are made out of wood, metal, or a mix of durable plastic, wood, and metal.
Standing converter desks also come in two different frame types – either Z Frame, where the legs of the converter are on each side.  Or as an X Frame where the legs of the frame are underneath the converter. 
The VariDesk Pro Plus 36 is Z frame converter desk.
Standing desk converters are the typical barrier of entry for most standing desk users considering to take the leap into standing because they are easy to place on your existing desk and are not as expensive as a full standing desk.
Pros and Cons of Standing Desk Converters
Pros:
Good price.  Converter desks are cheaper than full desks and offer the better price point for a true standing desk. Many models range from $200-$400 and can be caught on sale for under $200.
Easier to Adjust.  When operating manually, converter desks are easier to lift and move up and down on your existing desk and have a shorter distance for adjusting (due to the smaller size than full desks).
Portable.  Most sit to standing converters are easy to pick up and move to a new location. They weigh less than a full desk, and can easily fit in a vehicle to transport. 
No Assembly Required.  Many come fully assembled in the box. You simply pull it out, put it on your desk, and you're on your way. The VariDesk Pro Plus 36 comes fully assembled and ready to go.
Cons:
Less sturdy.  Standing desk converters are placed on your existing desk, and some models can be flimsy or wobbly. Most brands attempt to provide a sturdy and quality product but some converters will never be as sturdy as a full desk. The VariDesk Pro Plus series desks are all very sturdy.
Bulky and awkward.  These desks don't have a very natural look sitting on a mahogany desk.  Now that standing desks are more common they are becoming more stylish but they can still break up a well designed office space.
Smaller Workspace.  You can't fit as much material on a converter desk. There is plenty of room for two 24" monitors, a keyboard, mouse and paperwork on most models, but you will need to leave your printer on your existing desk.
VariDesk Pro Plus 36 Review: What do we recommend?
Still can't decide if this desk is right for you? Let's help you out with our recommendation.  The VariDesk Pro Plus 36 is an excellent option for anyone getting started with standing desks or looking to replace their existing standing desk. It is a quality product from a reputable company. Users who decide to buy this desk will not regret it. We hope this review was helpful in assisting you in deciding which standing desk is best for you.