The FlexiSpot Esben standing desk is an elegant and clean looking standing desk that will impress every user. It sets itself apart with very sleek drawers that allow it to fit in small spaces and provides extra storage space. Its 24" x 48" surface size on top of the extra storage space make it ideal for work spaces, or compact spaces, particularly in the home office.
FlexiSpot is one of the most innovative brands in the standing desk and office furniture world. They have a wide variety of standing desks, converters, chairs and even bikes to choose from. Thier EC1 standing desk is frequently ranked in the top 10 of Amazon home office desks, and the FlexiSpot Standing desk converter is currently ranked #1 on Amazon. You can't go wrong with choosing a FlexiSpot desk, and the Esben is no exception.
FlexiSpot Esben Standing Desk Review – Versatile and Sleek
The FlexiSpot Esben standing desk is one of the most affordable standing desks of the moment. Its reduced size makes it a bit more affordable than its competitors. However, it's not the low price that first captures attention on the Esben desk but the 2 drawers neatly tucked underneath, which are ideal for students and the busy professional.
FlexiSpot launched its Esben in a simple version (ED4EW) without memory presets and an enhanced version (UD4W) with memory presets and USB charging incorporated into the desk. These versions of the standing desk both target users who want to work while standing a bit more often. Both desks are characterized by a clean modern design covered by a 5-year warranty. Here we will keep both in mind as we review the FlexiSpot Esben Standing Desk.
FlexiSpot Esben standing desk top features
The FlexiSpot Esben standing desk is among the leading choices for desks with drawers. However, it has multiple other qualities that recommend it for almost any type of user.
1. Simple modern design for small spaces
The desk is made with a modern design. The surface is of natural wood grain color while the drawers and the metal legs are white. This contrasting combination is suitable for any home office or homework space.
Practical by size and by design, this standing desk can be used both standing and sitting. It's up to the user to decide which of these working positions feels the best. This is why Flexispot offers extra packages that include an office chair or a standing mat. Those interested in further savings can purchase the standing desk with a treadmill or an under-the-desk exercise bike to stay fit even while sitting for a long time.
2. Organized working space with 2 drawers
One of the main reasons to get this desk and not other small standing desks are its built-in drawers. These are great for storing notebooks, computer accessories, phones, and tablets. They can help keep the surface of the desk clear and clutter-free at all times. This is a major advantage for the ultimate productivity. It has been shown that productivity can suffer when working from home and this is why every small desk detail matters.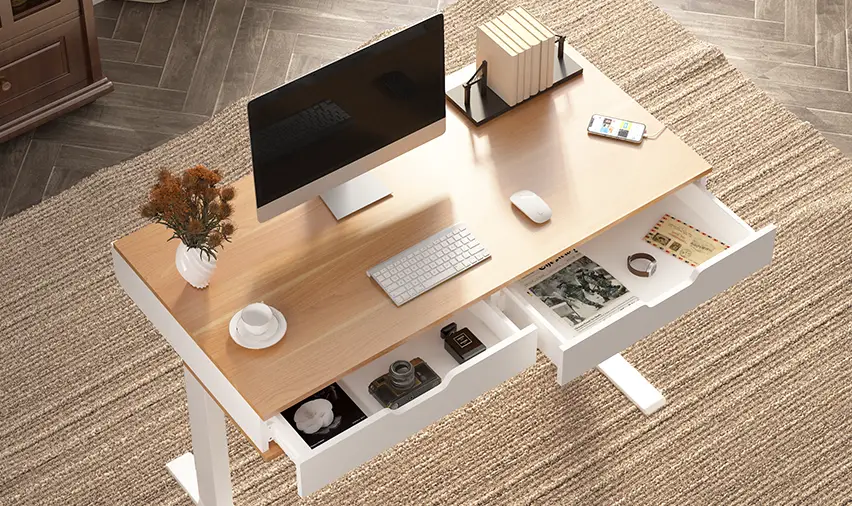 One of the main concerns of those using monitor stands is being restricted in setting them up on a thick desk with drawers. But FlexiSpot uses a smart design for the drawers. In simpler terms, the drawers aren't as long as the desk which means the backside of the Esben is just the 1" surface. This thin surface allows users to install any monitor stand on the standing desk.
3. Two control panels
The 2 versions of the desk both come with electric height adjustments. But the control panels for these versions are different. The affordable simple controller allows users to adjust the desk up and down. The more complex alternative also comes with presets for various height levels that are user-specific. You can save your preferred height (up top 49.2") for quick transitioning between sitting and standing.
4. USB charging ports
The UD4W version of the standing desk also features USB connectivity. 2 type-A USB ports and one type-C USB port are added to the side of the standing desk providing a clutter-free charging station for smartphones, tablets, headphones, and smartwatches. In additions to the drawers, this is one of our favorite add-ons of the FlexiSpot Esben standing desk.
The USB charging ports aren't found on the simpler and more affordable UD4EW version. This desk is among the cheaper FlexiSpot options. It offers all the benefits of an adjustable electric desk without all of the extras such as charging ports.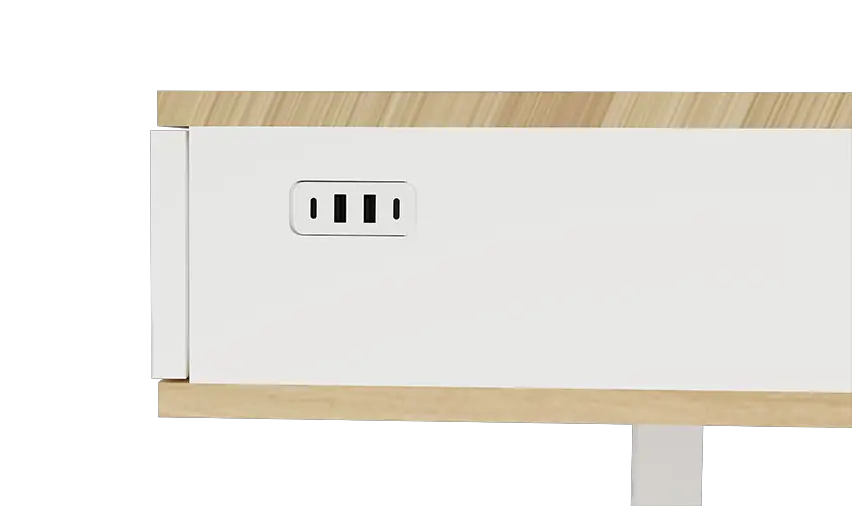 5. Anti-collision sensors
Flexispot Esben also impresses in this range of affordable standing desks with its extras such as a built-in collision sensor. As its name suggests, the sensor prevents collisions. The sensor detects objects under the desk when lowering it while also stopping the lowering process. This is ideal for those who keep storage units under the desk or for those with kids running around the house as a safety feature.
Specifications
Available with a 2-button or a 6-button control panel
Designed with practical drawers
Made with USB A and USB C charging ports
Included anti-collision sensor
5-year warranty policy
Quick assembly system
24" x 48" surface size, ideal for small spaces
5.1" drawer height
Wide range of height adjustment options from 29.5" to 49.2"
How to assemble
The FlexiSpot Esben is one of the easiest to assemble standing desks. It comes in 1 medium sized package which is rare for a standing desk. It also ships mostly pre-assembled which means the parts that are most complicated to install (the drawers) are already assembled. Users only need to assemble the feet (using the provided tools) to quickly assemble and begin to use their Esben standing desk for the first time.
What users say
Users are satisfied by the Flexispot Esben standing desk and this can be confirmed in its reviews. With the rising number of people working from home, it's expected for this practical standing desk with storage to become even more popular in the future.
Great desk for small rooms
Most users don't have a dedicated office room at home. This limits the type of standing desk they can fit either in the bedroom or the living room. As a result, a compact standing desk that also comes with drawers is easy to fit in one of these rooms while also offering minimum storage space.
Flexispot's Esben standing desk isn't as popular as the office. It's a standing desk made for home use.
Many users expected the extra weight of the drawers to play a negative role in the desk's stability. Its larger drawers were also expected to shift its center of gravity forward. However, Flexispot balanced the desk correctly with a little wobble to worry about. The desk remains stable even when typing, which recommends it for all types of users.
Mostly ideal for laptops or 1-monitor setups
Clients also note the desk is small which limits the number of monitors or laptops they can worth with at a given time. However, since most only use one laptop or a laptop with an external monitor on a monitor stand, the standing desk seems to do a good job. Users don't recommend the standing desk for fans of multi-monitor setups.
Pros
A compact design ideal for bedrooms and living rooms
Included drawer storage
Designed with 2 x Type A and 1 x Type C USB ports
Included collision sensor
Pre-assembled shipping
Cons
Limited 99lbs maximum load capacity
The biggest drawback of the Flexispot Esben standing desk
One of the biggest drawbacks of this standing desk is its limited maximum load. Since it already comes with drawers and since it's a small desk, it has 99lbs maximum weight capacity. This is half of the 200lbs maximum load of the similarly-priced Juniper Think Desk standing desk. However, users not its reduced size is not recommended for too many monitors or storing large printers on. This is why this reduced size might work well for most users working from home.
Where to buy
You can buy the FlexiSpot Esben standing desk directly from FlexiSpot or Amazon. This standing desk isn't found in stores. While you can't test it before buying, the desk comes with great customer service policies. There's a good return policy as well as a standard 5-year warranty that recommends buying this standing desk online.
Conclusion
The FlexiSpot Esben standing desk creates a small office in your home. It features storage space using its drawers creating a full working station at home. Both versions of the desk are affordable for what they offer. However, it's the ability to stay organized and work in an ergonomic position both while sitting and by standing that makes working from home easier and more productive. From this perspective, the standing desk is an inspired purchase.
While it's not made from the most expensive materials or designed with the largest surface, it's made as a practical standing desk that can fit anywhere in your home either next to a wall, to a bed, or even in a corner.