Fully is a company that specializes in workplace furniture such as desks and office chairs. The company focuses on modern ergonomics and attractive designs for users who want to work smarter. One of Fully's most popular products is the Fully Jarvis Standing Desk. Today we are going to give you a deep analysis of a Fully Jarvis Review.
The Fully Jarvis desk is ideal for users who want to work while standing. With almost perfect standing desk review rates, the Fully Jarvis is one of the most popular products of its kind users can buy online.
The Fully Jarvis Standing Desk is available with 6 desktops as well as in a frame-only design. It competes with affordable plywood standing desks as well as with hardwood alternatives at different prices. All of its options are ideal for alternating sitting and standing, an approach that has been linked with posture and general health benefits.
Fully Jarvis Review – Designed With Multiple Faces
This Jarvis review looks at all of the standing desk options available at the moment. One of the areas where the brand is better than others is at offering variable options to its products, an approach also seen in the Jarvis Standing Desk options. This standing desk is available in the following options.
Hardwood desktop
Plywood desktop
Laminate desktop
Bamboo desktop
Crank-powered standing desk
L-shaped standing desk
Frame-only standing desk
All of these options are made to fit specific needs and budgets. As expected, hardwood Fully Jarvis standing desks are made with premium materials that cost more. But the brand also offers budget-friendly crank-powered standing desks and even a corner-fitting L-shaped Jarvis Standing Desk.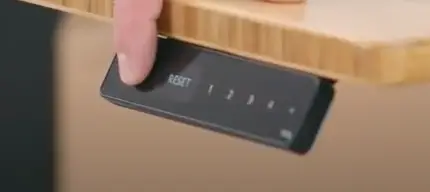 4 Top Fully Jarvis Standing Desk Features
All of these standing desk versions are popular however, most customer favor the Fully Jarvis Bamboo elegant version based on reviews. Made with an elegant bamboo desktop, this standing desk uses natural wood from sustainable forests that are further treated to resist accidental water spills.
Made from real bamboo
One of the main attraction points of the Fully Jarvis desk is its bamboo desktop. Its sustainable role is mitigated through its role in oxygen production. Jarvis estimates bamboo releases 35% more oxygen into the air than other trees once it reaches maturity.
Bamboo is also an elegant type of wood that's also more affordable than other similar materials. This Jarvis review looks both at the natural finish and the dark bamboo counters as possible options for a viable standing desk for working.
The Fully Jarvis comes in rectangle and contour desktops
Both the natural bamboo desktop and the dark bamboo desk versions are available in different sizes. Fully makes them in different sizes and shapes so that it suits multiple spaces from small bedrooms to large open offices. The desktop comes in a rectangular shape or a more ergonomic curved shape. 8 sizes are available for the rectangular Fully Jarvis Standing desk. Users can also opt for 3 sizes for its curved desk alternative designs.
A handset made for the purpose
Users can customize their Fully Jarvis Standing Desk further by opting for one of the handset options on offer. Fully offers both a minimalistic small handset and a larger programmable handset. So what's the difference between them?
Apart from pricing, these handsets are made for different types of users. The smaller OLED handset only comes with up and down arrow controls which set the height of the desk. Its larger handset alternative features 4 height presets that allow the user to memorize a certain desk height. Those working both while standing and sitting at this desk don't have to constantly look for the right desktop position if they save the right height using this larger handset.
Height adjustments and weight limit
The Jarvis Standing desk is made to reach a maximum height of 50". This height makes it a recommended product even for tall users who might need a bit more elevation to comfortably work at the computer.
350lbs is the maximum weight capacity of the standing desk. This allows it to smoothly and securely lift a considerable weight, typically representing a laptop, a few monitors, speakers, and all other stationary users might need with a typical desk job.
The Most Important Fully Jarvis Standing Desk Specifications
Available in multiple sizes (from a minimum of 30" x 24" to a maximum of 78" to 30")
0.75" bamboo desktop thickness for the natural-finish desktop
1" bamboo desktop thickness for the dark-finish desktop
10-years frame and motor warranty
5-years desktop warranty
Available in 2 types of OLED handsets
Possible extras include power wire openings
How to assemble the Fully Jarvis Standing Desk
Unlike most other standing desk brands, Fully also places attention on shipping packaging and the entire assembly process. Fully sends each box with clear assembly instructions. Assembling the standing desk upside down is the main feature to put it together. We cover a detailed breakdown of how to assemble your Jarvis desk here.
Users first flip the desktop which comes with pre-drilled holes for legs' assembly. The legs need to be fixed to the bottom part of the bamboo desktop before flipping the desk up. Two people are needed to flip the desk on its feet once assembled which is one of the main drawbacks of the assembly process is that .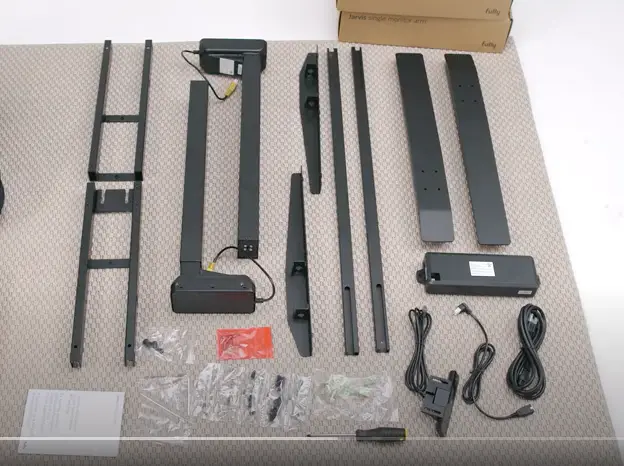 What User Reviews Say About the Fully Jarvis Standing Desk
Most users are highly satisfied with their Fully Jarvis Standing Desk. Fully Jarvis reviews are some of the best in the industry and 2 reasons tend to drive these positive remarks.
Great durability
Not a single Fully Jarvis review mentions poor durability on the adjustable standing desk. Most users agree these are some of the best standing desks at the moment. Several users mention the Jarvis desk is highly stable, even when its desktop is raised to its maximum height. The electric motor is smooth and quiet, which often prompts multiple users to recommend this desk further, especially for home use.
Affordable pricing
Many users first show interested when they learn the Fully Jarvis is more affordable than many other hardwood standing desks. Given the rising costs in manufacturing hardwood standing desks, it's always worth checking what the affordable brands have to offer. The 42", 48", and 60" rectangle Jarvis desks are affordable and popular options.
What We Like About the Fully Jarvis Standing Desk
Customization options are by far the main selling point of this standing desk from our perspective. However, there are other reasons to consider it which include an elegant timeless design as well as reliable motors also seen on other durable standing desks.
Great customization
The large selection of desktops of different shapes and finishes makes the Fully Jarvis Standing Desk an industry leader. It's easy to find the right fit for home use with so many desktop sizes. It comes in sustainable options regardless if users only need the desk for a laptop or a complete multi-monitor setup.
Fully also offers multiple models of their Jarvis design, to include great standing desks for kids options.
The desktop looks good
One of the perks of purchasing bamboo standing desks is the finish and the overall aesthetics of the working space. Unlike plywood standing desks (also available at Fully), a bamboo desktop offers the desk a bit more elegance.
Stable working platform for all heights
The electric motors of the standing desks are reviewed as reliable by many users. Even after years of use, these motors still work properly without hiccups, as most users attest in their reviews.
Pros
Covered by an extensive product warranty
Highly customizable in desktop size, finish, and shape
Stable compared to other adjustable standing desks
Available both in a rectangular and stylish rounded desktop version
Ideal for health benefits such as reduced back pain due to alternating sitting and standing
Industry-leading packaging ensures all standing desk parts arrive in prime condition
Cons
Some users need a power drill to screw in the desktop comfortably
Some users complain it can be wobbly at highest settings
Here is an excellent detailed video review from 'Youtube user "ShinyNewGadget" that covers everything from shipping, assembly, and his views on pros and cons. Check it out:
Where to buy the Fully Jarvis Standing Desk
Users can buy the Fully Jarvis Standing Desk directly from the manufacturer by placing an online order and from Amazon. Both of these options are directly fulfilled by Fully with the help of FedEx.
Most standing desks are already in stock and they ship anywhere between 1 and 3 days after placing an order. Fully offers free shipping when placing an order inside the US. Deliveries to Canada, Alaska, and Hawaii are subject to additional shipping costs.
Final thoughts
The Fully Jarvis Standing Desk is made with sustainable bamboo, sturdy metal legs, and responsive motors built to last. This desk is an ideal purchase when shopping on a budget but without sacrificing durability. With a frame warranty of 10 years and a desktop warranty of 5 years, this is one of the Fully standing desks made to last.