Standing desks have taken off in recent years due to prolonged sitting becoming more and more of a problem in society.  According to studies, both students and employees spend 75% and 62% of their daily routines respectively sitting. This is, of course, a major challenge that has high possibility of presenting a lot of health defects over time. Although stand up desks are a great alternative to sitting, having poor posture while using a standing desk can lead to worse problems over time than actually sitting.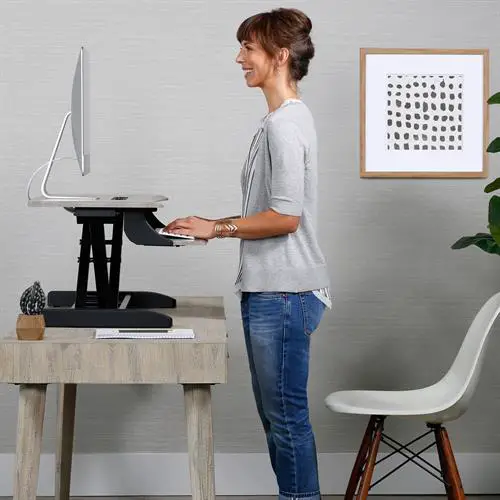 So what is the recommended posture for using a standing desk? It may seem obvious that you should just stand up straight and pay attention to not slouching etc, but there is more to it than that.  Here we will be sharing all you need to know about the best standing desk posture and its importance.

The best standing desk posture
The first thing you need to ensure with your standing desk posture is that you are maintaining a good body structure by standing up straight, which in turn keeps your spine in its natural "S" curve. While doing this, you need to also make sure that you keep your shoulders back, and your neck, and head are straight as well. Keeping your body straight enhances the proper circulation of blood and alleviates stress on joints, tendons, and ligaments. Maintaining good back posture is key to your long-term success using a standing desk.
Your lower body posture is also critical.  You may find yourself leaning on one leg more than the other – DON'T DO THAT!  You want to ensure that your feet are generally shoulder width apart, or that you alternate from having one foot forward, and then other. You want to maintain a loose and small bend in the knees.  Try to avoid wide stances, or crossing your feet while one foot maintains all the pressure while the other is either perched up or resting on your foot.  Although common positions to use when standing in a relaxed position for short periods of time, these are actually signs that your feet and legs are ready for a break from standing at a standing desk. There are instances when your feet will ache as a result of long hours of standing. Instead of leaning against the desk and exerting the pressure on your lower back and spine, which is a bad standing desk posture, you need to sit down and take a break from standing (you can also introduce the use of a leaning stool to reduce the strain on your legs, especially if you are new standing desk user or early on in your standing desk journey).
The importance of good posture
When it comes to standing desk posture, it is not just about standing but standing the right way. Maintaining a good standing posture helps to avoid fatigue which is usually caused by the constriction of blood vessels and back pains.
Also, maintaining a good posture helps you to develop a good body frame and good blood flow to be as healthy as possible. Many of the benefits of a using a standing desk or sit to stand converter desk are the benefit of having good posture first! Best of luck to you on your standing desk journey and post below any other tips for good posture using a standing desk.