Standing desks are all the rage across offices and businesses around the world. These great alternatives to sitting are not only for the adult workforce but also for kids at home or in the classroom too.  Standing desks are an excellent way to promote healthy habits and teach best practices for living an active lifestyle for kids of all ages. Keep reading to see the best standing desks for kids in 2020.
If you consider the amount of time kids spend sitting in classrooms or sitting at home, providing them the option to stand more often and walk around could significantly change their habits and overall health. 
Also, many schools are reducing the amount of time kids spend outside for recess (or cutting it altogether) and even gym classes are taking a back seat to increased classroom instruction. 
And now, with many school having to switch to virtual classrooms and distance learning due to the COVID global pandemic, adding a standing desk for your child at home will help promote a healthy lifestyle in the home.
Adding standing desks for kids in the classroom or home office is a great option to reverse this trend and allow for children to stay more active in their learning environment. Many standing desk companies offer specific sit to stand desks or adjustable standing desk models for children whether they are homeschooling at the house or learning in the classroom.
Let's take a look at a few of the best standing desk options for kids.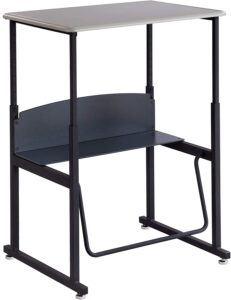 The AlphaBetter Desk by Safco is the most popular stand up desk for kids on Amazon.  It features a dynamic footrest desk for students in grades 3-12, a steel frame and laminated plastic desktop which makes this height-adjustable desk a chemical, flame and impact resistant option. A lower shelf and additional book box gives users a variety of storage space. 
This desk reminds you more of a traditional school desk and provides an easily accessible storage area for school supplies and personal items as well as a steel book box. 
With 4.2 out of 5 stars on Amazon, the most common theme from reviews is that STUDENTS LOVE THEIR DESKS. 
Safco has been in the workplace furniture business for over 50 years and prides itself in crafting forward thinking products that match the right solution for their customers. They certainly achieve this with their Alphabetter Standing Desk. Check it out here.
Fully is no stranger to the standing desk landscape and has a reputation for making highly reviewed, sturdy, and aesthetically pleasing standing desks.  Year after year they rank at the top for best standing desks on the market, and this is just as applicable for children's standing desk.  
Their very popular Jarvis standing desk model is available for kids as well. The Fully Jarvis Standing Desk for Kids is available in their signature bamboo design which is ecofriendly and very durable, or you can get one with a whiteboard laminate top which allows kids to write out their ideas or work directly on the desk.
These desks are completely adjustable with the push of a button, can support up to 350lbs, and come with a generous 7 year warranty. Prices range from $509 for the basic bamboo model to $828 for the whiteboard model with accessories. 
You can check out both options from Fully here.
If you are looking for a cheaper and even smaller option for young kids, Fully also offers the "Jaswig" standing desk for kids.  The Jaswig was originally featured in a FastCompany article highlighting the importance of providing options to keep kids active and using stand up desks, and now Fully offers the Jaswig on their website. 
The Jaswig My First Standing Desk is an adjustable desk that grows with your child.  It is designed with a 60's vintage look and is easily adjustable (and safe) with an up and down lift and lock design. The idea behind the Jaswig is you can start your kids as early as kindergarten with this great option and they can use it through grammar school.
If you feel your child has outgrown their standing desk, Fully offers a $50 discount off their Jarvis model if you donate your Jaswig. If you you're your Jaswig so much, but feel like you are growing out of it, Fully offers the Jaswig Nomad Desk, which is a little larger. 
Check out the Jaswig desks here.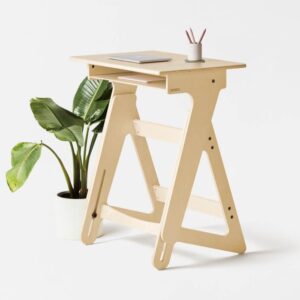 Ergotron is another industry leading maker of standing desks and sit to stand converter desks (like the one I currently use) that offer an excellent option for children as well.
The Ergotron LearnFit Sit-Stand Desk is an adjustable student desk that is flexible, mobile, and easy to assemble for use in any classroom or learning environment. It is customized for students with a pencil tray, cup holder, tablet slot, backpack hook, and book holder.  It is best used for Kids aged 9 and up. 
As mentioned, it is extremely easy to assemble and can easily be added in bulk for any classroom, or simply purchased for the home school environment and rolled away when not in use. This case study conducted by Ergotron at Beaver Acres Elementary School showcases the impact that kids using a standing desk can have in the class room. 
For more information about the LearnFit Sit-Stand Desk check out Ergotron's brochure here, or you can watch the video below.
If interested in buying one, you can read reviews on Amazon and check out the price here.
Vari Standing Desks for Students (formerly VariDesk)
When most people think of standing desks, they think of a VariDesk, and their popular commercials highlighting their breakthrough technologies and standing desks. They continue to add this expertise in standing desks and sit to stand converter desks with their Standing Desk for Students options. 
Their research backed approach to designing and developing standing desks for kids shows that students who have the freedom of more movement in the classroom experience the benefits of:
5% Improved Standardized Test Scores
15% Increased Engagement
20% Increased Calorie Burn
5% Reduction in BMI Percentile
Vari is committed to promoting active education and offer a host of standing desk solutions for getting students in the classroom more active. Targeted for all ages, Vari offers Adjustable sit to stand school desks and Standing biased desks for all grades as well as options for two students.
Vari Sit-Stand School Desk 3-12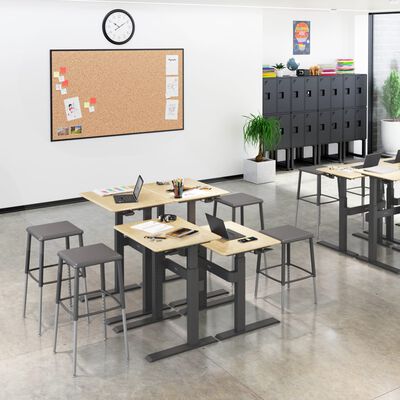 Vari Sit-Stand School Desk 5-12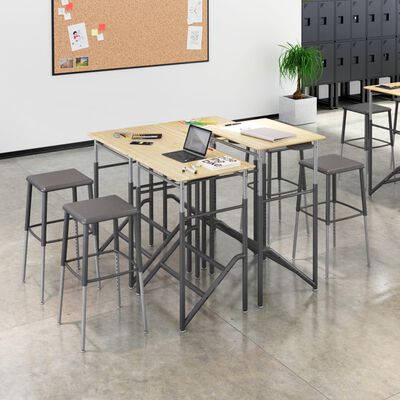 Standing School Desk for two 5-12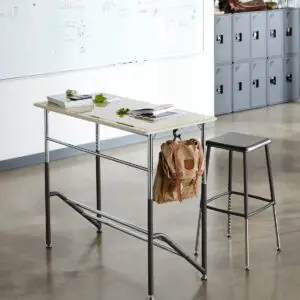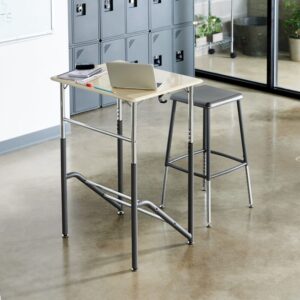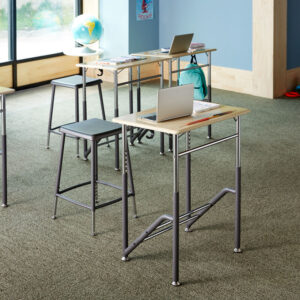 Standing School Desk for Two K-5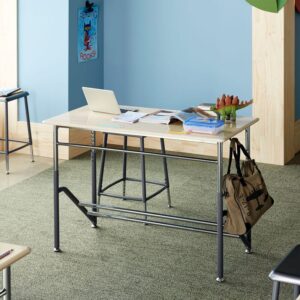 Dr. Mark Benden, Director of the Ergonomics Center at Texas A&M University supported Vari's research and says:
"We are finding that with standing desks in schools, the children are more focused and more on task. This is great news for teachers – they don't have to stop and discipline and correct behavior.  But it's really great news for all of the students from and academic perspective because when a teacher can continue to teach and not have to discipline… everyone's learning level can increase"
Vari is also committed to the health and activity of teachers, who set the example for our growing students, with their VariDesk Pro Plus 36 as a great sit to stand converter desk option for teachers to add to their desks as well. Check it out here.
Conclusion
The benefits of standing desks are widely debated, but their impact on today's generation of school children is much more apparent. In a study published in the American Journal of Public Health  conducted by Monica Wendel, Dr.P.H., M.A., and her Texas A&M University collaborators (also furthered here in  Eureka Alert) her team spent two years studying 193 students across three Texas schools. Some were in classes that had normal desks. Some were in classes that had standing-biased desks.  And some had a year of normal desks and a year of standing desks.
What they found is that after adjusting for grade, race/ethnicity, and gender, kids who used the standing desks had a 5.24% decrease in BMI percentile compared to the kids who sat. 
Additionally, the kids who stood for only one year generally had the same BMI loss benefits at the conclusion of the study as those who stood for two.  Nothing else about the school or curriculum was changed and yet these children saw amazing results.
Juliet and Kelly Starret at standupkids.org agree that children should stand more at school and have set out on a mission to place as many standing desks in schools as possible.
"At StandUpKids.org, we believe children's sedentary behavior is a public health crisis and that children need to MOVE MORE and SIT LESS. Standing desks are a simple and elegant way to create a movement rich environment where children are more engaged and perform better academically, burn more calories, eliminate or minimize orthopedic problems and disease, feel happier, and just plain move more"
From their initiative, every desk at their children's school, Vallecito Elementary School, was converted to a stand up desk and became the first all standing school in the world. This grabbed the attention of media across the nation to include the Today Show, CNN, CBS This Morning, CBS Evening News, and more. 
And by 2017 more than 27,000 kids nationwide had some type of stand up desk or standing biased desk!
A major concern with providing access to more standing (and more activity) for children are the possible injuries and health issues that could occur. Despite no evidence of this occurring, it is still important that kids use their desks correctly. 
According to Mary McCarthy, PT, Cert MDT, and owner of McCarthy Spine and Sport PC, "When considering a standing desk for a child, the child's legs, torso, neck, and head must all be in line. The height of the desk should be at the level where the wrists are straight and elbows bent to 90 degrees." Stand up desks with a full range of height adjustability promote the healthiest posture for every child.
To achieve the greatest benefits, it is recommended by Nancy Dellmore from Focus Desks that every child's standing desk have the following features:
Height Adjustable 
Storage and Organization
Mobility
Durability
Affordable Pricing
Similar to other research, in her article, Nancy highlights that not all standing desks are created equal and that the wrong desk can have unforeseen negative consequences – from poor ergonomics to classroom disruption. To create the best learning environment, classroom desks should be easy to adjust with practical features for organization, group work, and storage. 
Standing desks are a fantastic option to promote healthy habits and to encourage children to live an active lifestyle. These are a few of the best standing desk for kids options. The sedentary lifestyle of most kids is alarming. The time they spend sitting in classrooms and at home is easily balanced out by providing them the option to stand more often, walk around and engage more with teachers and other students. This can significantly change their habits and overall health!