A balance board is a fitness device that allows you to work on stability, strength, stretches, focus and more while standing at your standing desk. Balance boards are a great addition to a standing desk setup. If you are considering getting a balance board for your standing desk, then you will want to take a look at some of the best standing desk balance boards on the market.
A standing desk is an ergonomically designed desk for standing while working instead of sitting. There are many known benefits of using a standing desk including reduced blood sugar spikes, increased calorie burning, improved posture, reduced back pain, and even an increase in productivity.
Balance boards are now catching on a standing desk side kick. Balance boards are used for set periods throughout the day, typically thirty to sixty minutes at a given time. Instead of just standing at your desk, standing desk balance boards are designed to improve core strength, improve joint movement, and posture.
This article will highlight five of the best standing desk balance boards, from the classic Revolution Focus balance board to the Gaiam standing desk board, here are our top five picks:
1. Revolution Focus Standing Desk Balance Board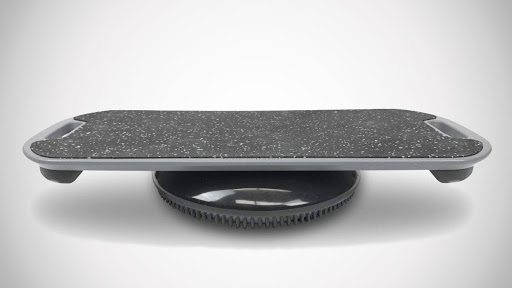 The Revolution Focus standing desk balance board is designed to maximize your time spent standing while simultaneously engaging your body and mind.
The design of the board is supposed to be challenging, working your entire body, and keeping you active throughout the day while at work. However, it's not too challenging to the point where you'll lose focus. If anything, it allows you to gain a deeper focus on your work while getting in a kick-ass workout.
Revolution designs and makes their products in the USA, and as they put it, "We know balance. As a maker of balance boards for fitness, sports training, and the workplace, we at Revolution are well known for building high quality and highly functional balance boards. Everything is designed in house, and made in the USA. Value is our motto, balance is our lifelong pursuit."
Here are some of the most discussed qualities of the revolution focus standing desk balance board:
Makes work fun
Challenging – harder than a typical rocker board
Hand Crafted – and made in the USA
3 Year Warranty
Once you become more advanced on the board, the air cushioned base is fully adjustable. Simply add more air without the need for a pump. This will make standing on your board more difficult, further testing your balance, core muscles, and determination not to fall off.
Here is what people are saying about this balance board:
5 Stars – At first, I thought this board to be too difficult for me. But, after starting with less air in the cushion, I am able to do short periods at a time and am confident I will be able to build up my core and balance to be able to spend more of my day on this board. I love this for work! 
Check out the Revolution Focus standing desk balance board on Amazon, click here.
Here is a great video from RevFocus on their balance board:
2.   FluidStance Standing Desk Balance Board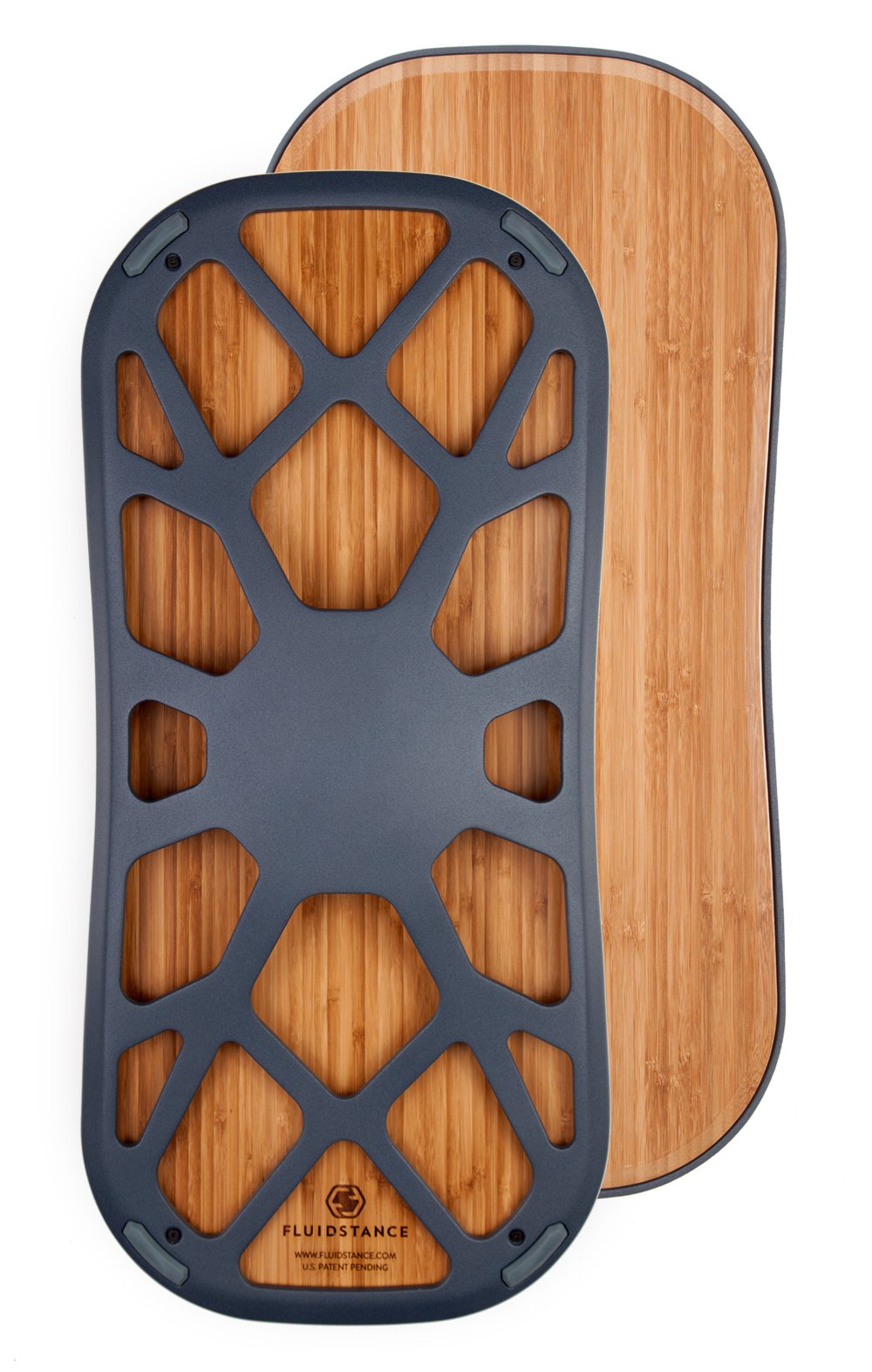 The first board to market was the FluidStance standing desk balance board – differentiating itself from the rest with its hand-cast skeleton design, base, and sturdiness.
Upon stepping on the FluidStance board, you will immediately notice a difference in how you work. Your focus will improve while your body instantly responds with micro-movements to remain balanced on the board. This increases your core-strength, joint strength, and challenges your mind not to give up.
Here are some great qualities of the FluidStance board
Unique Hand Cast skeleton design
Extremely Sturdy
83% of users feel "Happier" while using their board
30 Day Risk Free Trial
On top of this balance board, you will also receive the standard benefits of "standing desks," including lower blood sugar spikes, improved posture, and an increase in productivity.
Check out what people are saying about the FluidStance standing desk balance boards:
5 Stars: Fantastic. Yes, it's pricey, but it is well worth it. I use it at my standing desk and it has increased my standing time by at least 30%. It's no longer satisfying to stand at my desk without it…… really like the ease with which I can slide it with one foot under or out from under my desk as I move from standing to sitting and then back again, and when I'm sitting I still have my feet on it for elevation. – W.K.
Check out more reviews on the FluidStance balance board on Amazon here.
Here is video from FluidStance discussing the benefits of their balance boards and using a standing desk
3.   Gaiam Evolve Balance Board 
The Gaiam Evolve balance board, built for any standing desk, challenges our core and lower back muscles. This provides a basic yet effective workout while you work. The ergonomic design ensures neutral foot and ankle positioning for increased comfort, alongside the non-slip design to increase safety.
Since it is a low-impact activity, the Evolve balance board activates the back, core, leg, and ankle muscles, preventing those nasty side-effects from sitting all day and living a sedentary lifestyle.
Gaiam describes this balance board on their website as:
Low-impact movement activates back, core, leg and ankle muscles
Ergonomically promotes neutral ankle-foot alignment, avoiding over-pronation
Increases productivity by keeping the body active and mind focused  
Non-slip, honeycomb texture provides a secure base on hard floors or carpeting
Durable and built to last
Regular cleaning will keep your board in top shape, helping you achieve your best physically, mentally, and while at work. To clean this product, please use a damp cloth to prevent erosion of the non-slip material.
To check out the price on Amazon, click here.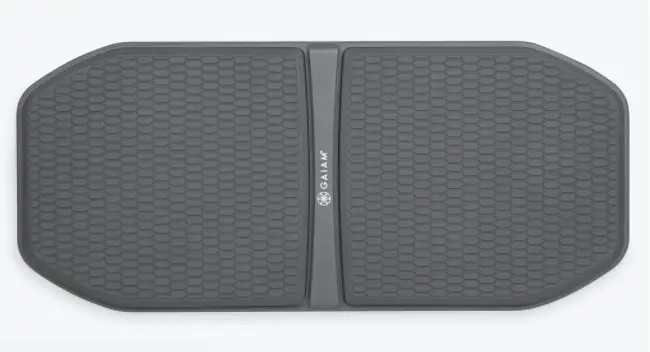 4.   Victor Steppie Balance Board for Standing Desks 
The Steppie balance board is the ultimate standing desk companion to improve posture, back strength, reduce sedentary activity, and even to burn more calories while at work.
All you have to do is stand on the board and the rest will take care of itself. Forcing muscles all over your body to adjust to your movement, the board tests and builds up strength throughout our body, including our core muscles, back, and legs.
Using the Steppie balance board for standing desks will regularly improve your posture, core strength, mental focus, and may even help you lose weight if that's one of your goals.
See the Steppie for yourself on Amazon, click here.
Here is an in depth review video by HuntOffice on the Steppie Balance Board
5.   FitterFirst Basic Standing Desk Balance Board 
This FitterFirst Basic standing desk balance board is ideal for the office, helping to reduce sedentary activity with a fun alternative – standing while working. The board itself was engineered to work in the office, providing a soft and gradual balance to test our muscles yet not overwork them. This allows you to focus on your work without distraction, or worse falling off your board.
This board also comes with an anti-fatigue mat. This mat improves comfort while you work, reducing cramp and preventing fatigue throughout the day. You're sure to get more done if you opt for this board.
We recommend using a standing desk balance board on and off throughout the day to increase productivity while reducing fatigue. 30-minutes on, 30-minutes off is a good starting point for beginners.
To view this product on Amazon, click here.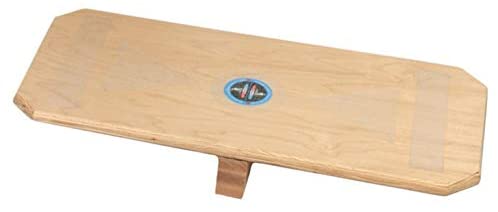 Are balance boards good for Standing Desks?
Balance boards are a great compliment to your standing desk and provide the following benefits:
Improves posture – Standing desks are known for improving your posture and a balance board takes it one step forward. On a balance board, your body works to keep upright and balanced. If you have bad posture, you will feel your body correcting itself and learning better posture.
Strengthens your core – standing on a balance board requires your body to focus and stabilize itself. This gives your core a subtle workout it would not typically get on a mat or sitting down.
Increases focus – Standing on a balance board takes subtle concentration while you engage in your daily activity. This additional focus helps improve your mental agility while standing at your standing desk. 
Lose weight – wondering if a balance board can help you lose weight? The added exercise and stability training will increase the number of calories you burn at your standing desk daily. If you are just starting out, you can lose a good amount of weight adding a balance board to your standing desk.
The benefits are numerous, but it all boils down to further improving our health & well-being by reducing our time sitting and replacing it with time on our feet and moving. Balance boards are a good accessory, similar to bosu balls, to add with your standing desk setup.
Purpose of Balance Boards
According to Wikipedia, "A balance board is a device used as a circus skill, for recreation, balance training, athletic training, brain development, therapy, musical training and other kinds of personal development.  It is a lever similar to a see-saw that the user usually stands on, usually with the left and right foot at opposite ends of the board. The user's body must stay balanced enough to keep the board's edges from touching the ground and to keep from falling off the board."
Types of Balance Boards
Rocker Board 
A rocker board is the most simple and easy to use type of balance board. 
It is a flat board with a fulcrum attached to the bottom of the board. Rocker boards have a see-saw like design for standing. With one foot placed at each end of the board, you can tilt from one to the other. It's your choice to balance in the middle and get a stability workout, or work side to side and alternating positions.
Wobble Board
wobble boards consist of a semi-sphere or half ball with the flat side attached to the center of the board's underside. This allows the board to pivot in all directions. Standing on a wobble board is more challenging than a rocker board and stresses muscles not exercised by standing on a mat. While standing on a wobble board, you can lean and tilt in any direction to exercise your stability and focus.  Wobble boards are similar to a Bosu ball, and standing on them provides similar benefits and challenges.
The Bottom Line 
While standing desks are the most recent craze, balance boards for standing desks are certainly catching up. These balance boards are designed to reduce sedentary activity, prevent and ease lower back pain, increase activity, and improve core strength and calories burnt while working.
However, which standing desk balance board should I choose? Ultimately, this is down to personal preference. Each has its own merit. The five products we've selected here all have multiple reviews and are ranked highly amongst other standing desk users, with each user seeing benefits of those listed in this article.
So, what are you waiting for? Is it perhaps time to invest in a standing desk and even a balance board? Allowing you to reduce your sedentary activity, improve core strength, eliminate lower back pain for good, and take your lifestyle to the next level?